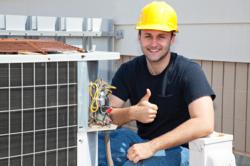 Plant City, FL (PRWEB) July 31, 2012
Tony Gould, owner of Gould's Air Conditioning and Heating has been providing Air Conditioning Plant City services to local residents for more than 30 years, primarily by himself. After many years of customer requests and as his desire to expand his business grew, he has hired A/C repair technicians as employees and now offers Brandon and Riverview Air Conditioning services.
Gould mentioned that he did previously offer Brandon Air Conditioning services on rare occasions, but primarily concentrated on his home town since there was more than enough business there to keep him busy. He wanted to grow his business but knew that the only way was to hire employees.
He was nervous about that since he had always performed all the work himself, ensuring complete control over the quality of service, and was hesitant to shy away from that. But with extensive training and monitoring over his new employees, he has found success and is glad he made the move into expansion.
He is focusing on two surrounding cities, Brandon and Riverview, FL. Gould stated that there are many areas that surround his home base of Plant City that provide opportunity, but he is only going to focus on creating brand awareness in two at a time, in order to keep his business manageable. With the brutal Florida heat and the high demand for his services almost year round, he wants to keep everything scalable.
Most of his marketing targeting these two areas will be internet based as the majority of his business is derived from internet marketing and his website. His shift from traditional print advertising to internet marketing a couple of years ago has resulted in a much higher return on investment and he expects similar results in the new cities he is expanding into.