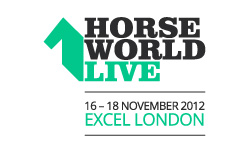 London, UK (PRWEB UK) 31 July 2012
Creative marketing agency Graphic Evidence were delighted to be awarded the public relations and marketing contract for the new equestrian show, which will be held at London's ExCeL on 16-18th November.
HorseWorldLive, is a new, three-day horse show which promises to bring something for every horse lover, all taking place under one roof. Held at ExCeL London on 16-18 November, HorseWorldLive offers a wide range of appearances, demonstrations and masterclasses from the best known names in equestrianism! This star-studded line up makes it one of the most hotly anticipated equestrian horse shows in the UK!
To check out HorseWorldLive's full line up and to find out more and purchase tickets please visit http://www.horseworldlive.com.
Graphic Evidence has already begun rolling out a multi-media PR campaign to inform and educate the equestrian sector, and wider public about the new show and its attractive content.
To find out more about other exciting projects that Graphic Evidence are working on please get in touch.