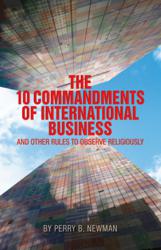 Finally, something I can read and understand quickly. I don't have time for an encyclopedia. I read the book on a business trip and was able to get things started at my company upon my return.
Portland, ME (PRWEB) July 31, 2012
The French language edition of the popular export and international business guide, "The Ten Commandments of International Business," is in the final stages of preparation and will be released in early September, 2012, according to author Perry B. Newman, founder and principal of consulting firm Atlantica Group LLC.
"Response to the English language edition of the "10 Commandments" has been outstanding and very gratifying," Newman said. Copies have been sold in quantity to economic development organizations and government agencies across North America, as well to individual purchasers in France, Germany and Israel.
"Given the importance of international markets to French speaking businesses and entrepreneurs in Canada, and in particular Quebec and the Atlantic provinces, we felt it was important to make a French language edition available promptly. We expect to have "Les Dix Commandements" available shortly after Labor Day, 2012.
Newman's book is a concise, no-nonsense guide to international business success.
"One of the most common reactions to the book is, 'I don't have time to read an encyclopedia. This book is quick and clear. I read it on a business trip and was able to get things started at my company immediately upon my return."
"I'm very confident the book will resonate with French speaking audiences, as well," Newman concluded.
The book is available in English on Amazon in both paperback and Kindle formats, or from the author. French language editions will be available from Amazon in September, 2012, as well.
Author Perry B. Newman is an award-winning consultant, author, columnist and authority on international business and policy. He has spoken to audiences across North America on matters relating export development, foreign direct investment attraction, and innovation. He is the founder and principal of Atlantica Group LLC, a leading consulting firm based in Portland, Maine that serves clients and develops projects involving Canada, the United States, Israel, India and Europe. Atlantica Group also provides competitive intelligence to clients through its Atlantica Analytics division.