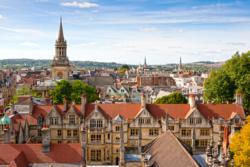 The record number of new businesses in the first half of the year shows a promising trend for future growth.
Oxford, UK (PRWEB UK) 31 July 2012
Oxford has enjoyed a record half year with 591 new companies being formed, more than any other first six months of the year on record for the city. The figure also shows a sizeable increase on the 534 companies that were formed during the same period in 2011.
The city is best known for its rich cultural heritage, with the world-famous Oxford University at its centre. 89.4% of the regions jobs are in the services industry, while 6.9% of jobs are directly related to tourism.
However, rather than relying on tourism, Oxford is seeking to sustain a diverse local economy. The Oxford Economic Development Strategy plans to enliven manufacturing and retail sectors and promote Oxford as a location for inward investment. The aim is to "attract new business investment that will help to underpin managed economic growth." The strategy also aims to assist business start-ups and help develop small businesses, with over 70% of businesses in the city employing less than 10 people.
Managing Director of Duport.co.uk, Peter Valaitis said:
"Oxford has an internationally recognisable brand and many unique assets that continue to serve it well. The record number of new companies formed in the first half of the year shows a promising trend for future growth."
With a well-established economy and a sustainable plan for the city, the future for new business in Oxford looks bright.
Duport Associates Ltd is a leading UK company formation agent, operating in the UK for around 15 years. Duport registers around 10,000 new companies each year using its Companies House approved software. The Company Register which is maintained by Companies House contains public information about Limited companies and directors.