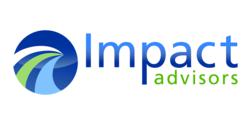 Chicago, IL (PRWEB) July 30, 2012
Impact Advisors, LLC, a healthcare information technology consulting firm, announced today it has been selected as one of Modern Healthcare's Best Places to Work in Healthcare for 2012. This is Impact Advisors' third time being included on the list, moving from position #33 in 2010 to #3 in 2011. Modern Healthcare will announce specific rankings at their live awards gala on October 9th.
Modern Healthcare is the industry's leading source of healthcare business and policy news, research and information. Its Best Places to Work in Healthcare rates outstanding employers in the healthcare industry on a variety of aspects and impacts, from economic development to employee retention. To view the complete list of honorees, click the following link: http://www.modernhealthcare.com/bestplaces.
Impact Advisors has consistently received other industry recognitions such as Best in KLAS awards, a Best Firm to Work for by Consulting magazine and a top 100 healthcare IT vendor by Healthcare Informatics.
Impact Advisors is a healthcare information technology leader, providing exceptional consulting services through caring, passionate professionals of the highest integrity. The advisors help healthcare systems across the country solve some of the toughest problems in healthcare information technology. They provide high-value strategy and implementation services to healthcare clients.
For more information on Impact Advisors, visit http://www.impact-advisors.com or find the company on Facebook at http://www.facebook.com/#!/impactadvisors.
About Impact Advisors, LLC
Impact Advisors, LLC is a privately held Healthcare Technology consulting firm based in Naperville, Illinois. The firm is dedicated to providing premier consulting services to the healthcare industry and works with leading Integrated Delivery Networks, Academic Medical Centers, Medical Groups and Community Hospitals across the country. Impact Advisors' Associates bring deep domain knowledge in healthcare IT and applied operational experience, and as such, they are exceptionally qualified and skilled at providing strategic consulting services that reflect integrated understanding and insightful analysis of challenging technology and business issues. Impact Advisors offers advisory, planning, and implementation services in a variety of areas, including: Strategic Information Technology Planning, New Facilities Technology Planning and Transition, Clinical and Revenue Cycle System Planning and Implementation, and Program Quality Assurance and Project Management.
# # #