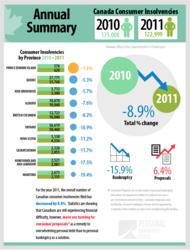 "We feel it's important to get this information out there in a way the average Canadian can understand. Debt professionals everywhere can use these tools to educate their clients." - David Smith
Calgary, Alberta (PRWEB) July 30, 2012
Personal Bankruptcy Canada, a free online resource for Canadian residents and debt professionals across the country has been compiling and presenting statistics released by the Office of the Superintendent of Bankruptcy in a way the data can be used and understood by laymen and professionals alike - infographics. Just released is the Annual Canada Bankruptcy Statistics infographic.
"We feel it's important to get this information out there in a way the average Canadian can understand. Debt professionals everywhere can use these tools to educate their clients," said David Smith, Co-Founder and President of Personal Bankruptcy Canada.
Data shows that consumer insolvencies have been on the decline overall, representing a downturn in personal bankruptcies and an uptick in consumer proposals.
"More and more consumers are realizing that it is possible to take control of their finances. The previously little know consumer proposal is on the rise, allowing Canadians to pay down their debt without having to file for bankruptcy."
For more information about bankruptcy and consumer insolvency statistics, visit Personal Bankruptcy Canada, Inc.