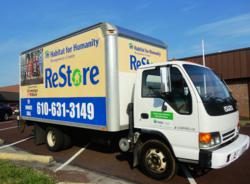 Community banking has always been about strengthening our communities.
Chester Springs, PA (PRWEB) July 30, 2012
Conestoga Bank recently worked with Habitat for Humanity of Montgomery County to refurbish the organization's ReStore truck.
The Habitat ReStore truck is used to pick up donated items either for use in the building of Habitat homes in Montgomery County or for resale at the Habitat ReStore, located at 533 Foundry Road in West Norriton. ReStore is a retail operation that sells donated, gently used, and surplus building materials, appliances, and home remodeling materials to the general public for a fraction of their value. All proceeds help build homes with Habitat for Humanity of Montgomery County. To date, Habitat for Humanity has built more than 50 homes in Montgomery County.
"By supporting Habitat for Humanity, they continue their great work of bringing the dream of home ownership to deserving families," said Richard A. Elko, president and chief executive officer of Conestoga Bank. "Community banking has always been about strengthening our communities, so being able to work with Habitat for Humanity was a perfect fit for us."
Conestoga's donation allowed the organization to refurbish the appearance of the truck, which Habitat has owned for more than three years. The truck now includes a photo of a Habitat home and family, which illustrates the true mission of the ReStore and Habitat—making home ownership a reality for low income families.
Conestoga Bank is a wholly-owned subsidiary of Conestoga Bancorp headquartered in Chester Springs, Pa. Conestoga Bank is a full-service financial institution, with 14 branches in Center City and South Philadelphia, Bucks, Chester, Delaware, and Montgomery counties, specializing in commercial loans, Small Business Administration, and leasing, along with convenient personal checking and savings products. For more information, please visit http://www.conestogabank.com.