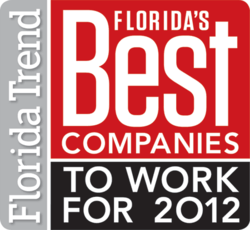 I would say 90 percent of my workforce is referrals from fellow employees – they love their jobs and they want to share that. It makes for a great environment.
Boca Raton, FL (PRWEB) July 31, 2012
The fourth annual statewide Best Companies list appears in the August issue of Florida Trend magazine and on FloridaTrend.com. One-hundred companies were recognized in small, medium and large company categories. BodyLogicMD ranked number 33 among medium-sized companies in 2012. BodyLogicMD has been honored twice - the first being in 2010.
To be considered for participation, companies or government entities had to employ at least 15 workers in Florida and have been in operation at least one year. Companies that chose to participate underwent an evaluation of their workplace policies, practices, philosophy, systems and demographics. The process also included a survey to measure employee satisfaction. The combined scores determined the top companies and the final ranking. Best Companies Group managed the registration, survey and analysis and determined the final rankings.
Patrick Savage, founder and president of BodyLogicMD, attributes the success of his company to the employees, "This award wouldn't happen without the great team that we have here. And, I can't take all the credit for these phenomenal team members – that credit goes to the employees. At BodyLogicMD, we strongly encourage employees to refer their friends and family members when positions come available. I would say 90 percent of my workforce is referrals from fellow employees – they love their jobs and they want to share that. It makes for a great environment."
"One thing that distinguishes best companies everywhere is their ability to hire effectively. So for our coverage this year we focused on how Florida's Best Companies go about identifying and choosing their workers," says Mark Howard, executive editor. "Hard skills are clearly important, but the companies we talked to generally put a lot of emphasis on other things as well — how well a worker will fit into the company's culture, for example. And in deciding whether to hire someone, they frequently involve as many of their current employees as possible."
BodyLogicMD has grown over the last nine years from the two people working out of their homes to more than 80 employees responsible for the day-to-day business operations of nearly 60 physicians' offices nationwide. The company is headquartered in Boca Raton, Florida and expected to see bountiful growth in the coming years.
About BodyLogicMD
Founded in 2003, BodyLogicMD physician-owned practices make up the nation's largest and fastest growing network of the most highly-trained physicians specializing in bioidentical hormone replacement therapy. Integrated with fitness and nutrition, BodyLogicMD's medically supervised programs are for men and women suffering from hormone imbalance associated with aging, including menopause and andropause.
BodyLogicMD comprises a network of physicians, who are pioneers of the anti-aging industry. The Chief Medical Officer of BodyLogicMD, Dr. Jen Landa, published her top-selling book in women's health, The Sex Drive Solution for Women: Dr. Jen's Power Plan to Fire-up Your Libido in January 2012. BodyLogicMD has also been featured as an expert resource on Oprah.com and in Suzanne Somers' books, Knockout: Interviews with Doctors Who Are Curing Cancer and How to Prevent It and Break Through: Eight Steps to Wellness. Her third book, Ageless: The Naked Truth about Bioidentical Hormones dedicates an entire chapter to BodyLogicMD. The Florida Trend cover story in December 2009, featured BodyLogicMD as the national leader in the growing anti-aging industry. The BusinessWeek cover story in March 2006, features the BodyLogicMD start-up story.