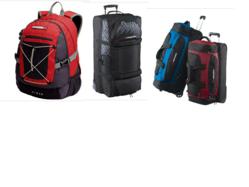 Caribee one of the most respected and innovative outdoor and urban brands.
Kent, UK (PRWEB UK) 31 July 2012
Luggage Superstore, the UK's online luggage specialist now has Australia's favourite urban and adventure travel brand for dynamic people on the move-the Caribee brand.
Caribee offers innovative designs which are practical for outdoors at a realistic price to the every day consumer. Specialising mainly in luggage for frequent travellers, the company uses only the best materials for their luggage items and cut no corners when it comes to creating Caribee luggage of outstanding quality. Each luggage is made with utter convenience and practicality in mind making it easy to carry by hand, pull along or across the back and shoulders and that makes a refreshing departure from some hard side cases.
Now based in Sydney with additional headquarters in China in order to better service the international market, Caribee brings years of experience from a very enthusiastic team. This enthusiasm has made Caribee one of the most respected and innovative outdoor and urban brands in Australia which is available to our customers in the UK on Luggage Superstore's online store
Trina Chee-a-kwai, Marketing Executive of Luggage Superstore says, "The luggage is designed to bring durability while living up to its reputation to handle the rough adventurous outdoor an on-the-move traveller experiences."
The brand offers from backpacks, daypacks, rucksacks and much more and many of the bags are expandable allowing much more space for your travelling necessities. Caribee's strong robust design is covered under warranty for 12 months in the country of purchase.
Luggagesuperstore established site is in West Kingsdown, Kent. Their aim is providing competitive prices of the highest quality luggage and top calibre Customer Service for online luggage shopping.
Trina Chee-a-kwai
Luggage Superstore
01474 854666
Email information