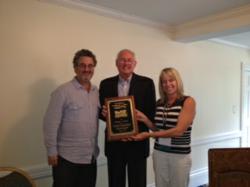 Bob's commitment to and impact on the affordable housing industry is unparalleled
Marlton, NJ (PRWEB) July 31, 2012
Robert J. Greer, president of The Michaels Development Company has been honored by The National Housing & Rehabilitation Association (NH&RA) with its inaugural Chairman's Award for life-time achievement in the affordable housing and tax credit development industry and for exemplary leadership and service to NH&RA.
The association is considered one of the nation's leading education and advocacy organizations for the affordable housing industry. The award was presented July 26 at NH&RA's 2012 Summer Institute conference in Edgartown, Massachusetts.
"We are pleased to honor Bob Greer with the Chairman's Award," said NH&RA's Chairman Debra Koehler, president of Sage Partners in Tampa, Florida, who called Greer's 40-year commitment to, and impact on, the affordable housing industry "unparalleled."
One of the first four employees hired by Michaels' founder and CEO, Michael J. Levitt, Greer was named president of The Michaels Development Company in 1997. During his tenure, the company has grown into the largest private-sector owner of affordable housing in the country and the nation's number one affordable housing developer, having developed more than 55,000 units across 32 states, the District of Columbia and the U.S. Virgin Islands.
With an affordable housing portfolio diversified among HUD's Housing Choice Voucher program (Section 8), mixed-finance, mixed-income, and Low Income Housing Tax Credit housing, Michaels Development has earned a reputation for taking on the most difficult development projects--and succeeding. Michaels has worked with public housing authorities in 26 cities to transform outdated public housing into mixed-income, sustainable communities, including Chicago and Newark, NJ. Most recently, Michaels and its non-profit partner, BRIDGE Housing, was selected by the Housing Authority of Los Angeles to redevelop the Jordan Downs Public Housing community.
During his 40-year career, Greer has also been an active leader in several national housing organizations, including serving as a long-time board member for NH&RA.
"Bob has been a friend, mentor, and trusted advisor to so many of us in this field that it is our sincere pleasure to have him be the inaugural recipient of this recognition," said Peter Bell, president and CEO of NH&RA "Any organization is fortunate to have an individual like Bob among its leadership."
About The Michaels Development Company
Michaels Development Company is part of The Michaels Organization, a family of eight integrated but independent companies dedicated to excellence in affordable, mixed-income, military, and student housing. Michaels Development Company is the number-one ranked privately held affordable housing owner in the country and in 2010 was named the Multifamily Development Firm of the Year by the National Association of Home Builders.
About NH&RA
NH&RA is the leading national trade organization for affordable housing and tax credit developers. Its membership is comprised of developers, owners, managers and professionals involved in the development, operation and finance of our nation's affordable housing, certified historic rehabilitation projects, renewable energy facilities and New Markets Tax Credit financed businesses. Learn more about NH&RA at http://www.housingonline.com.