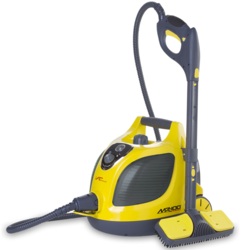 With an entry-level price but excellent features, the smart Vapamore Primo is ideal for killing bed bugs while staying within your budget
Lake Forest, Illinois (PRWEB) July 31, 2012
A leading nationwide marketer of vapor steam cleaners announced today that the Vapamore Primo steam cleaner, which replaced the Vapamore MR-100 steam cleaner, is available for 2-day delivery Monday through Friday within the contiguous U.S. The Primo is proven to instantly eliminate bed bugs from clothing, bedding, furniture and structural areas like baseboards—without the use of toxic chemicals.
"We've checked out nearly every steamer on the market and we only market the ones that have passed our toughest tests," says V.K. Dunlop of 1-800-GO-VAPOR.com. "With an entry-level price but excellent features, the smart Vapamore Primo is ideal for killing bed bugs while staying within your budget."
The bed bug crisis continues. The bloodsucking pests today are everywhere—from hotels and movie theaters to department stores and posh homes.
"People are in panic over bed bugs and are turning to dangerous, do-it-yourself chemical eradication methods," says Dunlop.
But in addition to being dangerous to your health, chemicals that can eliminate bed bug infestations are rare and generally ineffective, as bed bugs have developed resistance to chemicals that are being used against them. Another problem is that chemicals can't reach bed bugs in every nook and cranny where they hide. A highly toxic chemical called propoxur does work better than most, but the U.S. Environmental Protection Agency has banned the chemical for home use because of the damage it can cause to the nervous system of children.
"Fortunately people don't have to douse their homes in chemicals," says Dunlop. "The Vapamore Primo uses heated vapor steam instead of chemicals to instantly kill bed bugs and the eggs they leave behind. And because vapor particles are so small, they can reach cracks and crevices chemicals cannot."
With an entry-level steamer like the Vapamore Primo, or a high-end model like the Ladybug 2150 steam cleaner, bed bugs have nowhere to hide and are a thing of the past. And because steam cleaners kill bed bugs right away, they can be more economical than chemical alternatives that take several treatments.
"You won't find anything else like the Vapamore Primo on the market today for $299," says Dunlop. "We're pleased to offer delivery within 2 business days."
Located in Lake Forest, Illinois, 1-800-GO-VAPOR.com is moving fast to educate consumers and businesses that finally, there's a feasible, environmentally friendly alternative to chemicals. With customers in every state in the nation and seven foreign countries, the company maintains an A+ rating with the Better Business Bureau and markets Reliable, Vapamore and Ladybug steam cleaners worldwide. For more information, call 1-800-468-2767. 1-800-GO-VAPOR.com is a proud member of the Safer Chemicals, Healthy Families coalition, a nationwide effort to protect families from toxic chemicals. To stay safe and avoid toxic chemicals, keep abreast of the latest news with 1-800-GO-VAPOR.com's Twitter account, @1800GOVAPOR.