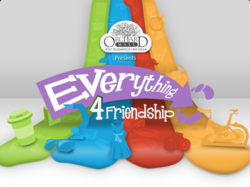 West Bloomfield, Michigan (PRWEB) July 31, 2012
Orchard Mall businesses have collaborated to present the first annual "Everything 4 Friendship" fundraiser on Sunday August 5th from 11am-4pm benefiting Friendship Circle of West Bloomfield. Orchard Mall is located on the Northeast corner of Maple and Orchard Lake Road.
Orchard Mall merchants such as Hiller's Market, Tappers Diamonds and Fine Jewelry, Toyology, Guys and Gals, Yoga Shelter and Sav-On Drugs will contribute a percentage of that day's proceeds to Friendship Circle. Additionally, Real Ryder Revolution is moving 20 revolutionary exercise bikes to the middle of the mall and for a donation of $100; the public can join one of four charity rides benefiting Friendship Circle. The Real Ryder fun begins at 9am and runs to 12:45pm.
This is a great opportunity to patronize local businesses that care about Friendship Circle and children with special needs. This is a wonderful event for the family featuring blowups, free food, live music and raffles. For more information about Everything4Friendship visit http://everything4friendship.com
Friendship Circle has been providing assistance and support for more than 3,000 families of children with special needs since 1994. Most of the Friendship Circle's work takes place at the Ferber Kaufman Life Town building, a 28,000 square foot state of the art facility in West Bloomfield that serves as a therapy/activity center and social meeting place for its network of more than 1,000 volunteers, professional staff and supporters. For more information on Friendship Circle, please visit FriendshipCircle.org