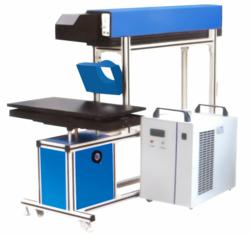 (PRWEB) July 31, 2012
As one of the most innovative laser equipment manufacturer, Eastern Laser has outdone itself again by bringing forth its DF series CO2 glass tube laser marking machine.
CO2 laser tube is used for cutting and engraving non-metal materials. Eastern Laser DF series CO2 glass tube is featured by full sealed CO2 glass laser tube, which is perfect for laser marking on non-metal materials.
Eastern Laser develops high quality sealed CO2 laser tube with different powers: 20W, 30W, 40W, 50W, 60W, 70W, 80W, 100W, 120W, 130W,150W.
Basic Configuration:
China made CO2 laser tube
High speed scanning vibrating lens and extending focusing system
Industrial computer system featuring high stability and anti-intervention
Precision vertical up-and-down working table
This laser marking machine can work 24 working hours a day in high stability, high precision and high speed. The marking software is based on windows operational software, easy to operate.
DF series CO2 glass tube laser marking machine has the following advantages:
1. High density laser output power, and centralized light beam;
2. High working efficiency;
3. Quick response for the laser pulse discharge;
4. Sharp laser beam after focusing;
5. Narrow width of the focusing beam;
6. High resolution;
7. Clear figures or words.