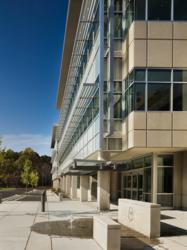 Spillman Farmer Architects takes pride in developing technology incubators that express the form and function of the space.
Bethlehem, Pa. (PRWEB) July 31, 2012
National architect firm Spillman Farmer Architects of Bethlehem, Pa. designed the business incubator space for Ben Franklin TechVentures (BFTV), a facility owned and managed by Ben Franklin Technology Partners of Northeastern Pennsylvania (BFTP/NEP), one of the nation's longest-running, technology-based economic development programs. The design won The National Business Incubation Association's (NBIA) Randall M. Whaley Incubator of the Year award.
"We are pleased that the Ben Franklin TechVentures project has been recognized internationally," said Joseph Biondo, Spillman Farmer Architects Design Principal. "Spillman Farmer Architects takes pride in developing technology incubators that express the form and function of the space."
The NBIA Incubation Awards honor leading organizations that advance early-stage businesses through incubation and entrepreneurship. The Randall M. Whaley award recognizes the highest achievement in business incubation and was presented to BFTV at the NBIA's International Conference on Business Incubation in Atlanta, GA.
BFTV encourages entrepreneurs whose companies boost the economy with highly-paid, sustainable jobs. The incubator also exemplifies environmental sustainability. BFTV engaged Spillman Farmer Architects to create the TechVentures2 expansion, which is currently targeting Leadership in Energy and Environmental Design (LEED) Gold certification. Some of its "green" features include light-harvesting technologies, rooftop photovoltaic panels and low-flow plumbing that reduces water consumption by more than 40 percent. These important building attributes are aligned with BFTP/NEP's focus on technology and innovation.
In addition to housing early-stage businesses at low-cost rental rates, BFTP/NEP provides entrepreneurs with other catalysts for success, including access to venture capital, expert technical and business support, and high-tech facilities and equipment. BFTV has experienced great demand since its inception. In 2011, a 47,000-square-foot expansion, TechVentures2, was added to the original facility.
This is an extraordinary repeat honor for the award-winning BFTV, which was also the 2001 recipient. BFTV's other distinctions include 2012 NBIA Dinah Adkins Incubator of the Year, 2012 Eastern Pennsylvania AIA Merit Award, 2011 U.S. EPA ENERGY STAR Challenge and 2011 PA Economic Development Project of the Year.
Photographs of TechVentures2 can be found on the Spillman Farmer Architects website.
About Spillman Farmer Architects: Spillman Farmer Architects (SFA) is an interdisciplinary practice of design professionals focused on delivering innovative building solutions based on human-centered design. Since 1927, SFA has worked closely with people and communities to deliver high-quality, effective and inspiring places to live, work, play and learn. SFA serves a diverse clientele including corporate, commercial, public and institutional markets across the United States. SFA's collaborative team works in a LEED-Gold-certified open studio on the brownfield site that once housed Bethlehem Steel.
About the Ben Franklin Technology Partners of Northeastern Pennsylvania: The Ben Franklin Technology Partners of Northeastern Pennsylvania creates and retains highly paid, sustainable jobs by linking companies with experts, universities, funding, and other resources to help them prosper through innovation. The Center strategy encompasses three key areas: developing early-stage, technology-based companies; helping established manufacturers creatively apply new technologies and business practices; and promoting an innovative community-wide infrastructure that fosters a favorable business environment for high-growth companies. The northeastern center is headquartered on the campus of Lehigh University in Bethlehem, Pa., and is part of an award-winning, four-center, economic development initiative that is funded by the state.