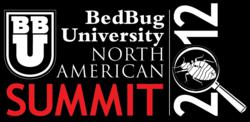 "Our work with bed bugs shows that many industries require the latest information about bed bugs to best handle infestations," said Jeffrey White, Technical Director for BedBug Central.
Lawrenceville, N.J. (PRWEB) July 31, 2012
BedBug Central, a leading resource for bed bug information, will be hosting its third annual North American Bed Bug Summit in September. The international event will educate leaders in housing, hospitality, universities and other sectors on critical information needed to stem the annual increase of bed bug activity.
The two-day Summit titled, Bed Bug University: North American Summit 2012 will be September 6 and 7, 2012 at Red Rock Resort, Casino & Spa in Las Vegas.
Summit attendees will hear from more than 20 of the leading entomologists and bed bug experts from around the world on the latest research and strategies for bed bug treatment, application, business and legal policies and more. Both national and international speakers were recruited for this year's summit to create an unparalleled learning opportunity.
BedBug Central's widely popular EXPOcentral, featuring over 75 bed bug product manufactures returns this year. Along with its Beer Tasting Reception and Night Out With the Experts to increase interaction among attendees and experts.
Innovations at BedBug University: North American Summit 2012:

New international perspectives on bed bug management that can be used in the United States
New research on: the health impact of bed bugs, treatments in low income housing, genetics and reproduction, new methods to detect bed bugs sooner and much more
Increased collaboration and networking among government agencies, private sector, public sector, manufactures and industries affected by bed bugs.
Opportunities to see more 75 vendors of the latest bed bug technologies
Early bird registration is still available at $525.00 per person and regular registration is $595.00. More information about the BedBug University: North American Summit and registration instructions can be found at http://www.bedbugcentral.com/summit.
###
About Bed Bug Central
Bed Bug Central serves as the nation's most authoritative information resource and website available to the public for information concerning bed bugs and bed bug related issues concerning health, prevention, and treatment methods. More information can be obtained at http://www.bedbugcentral.com.
About BedBug University
BedBug University is an intensive four day course that covers bed bug biology and behavior, treatment protocols and explores the unique legal challenges and business opportunities of bed bugs. BedBug University is now being expanded to include other learning opportunities such as the annual North Ameican Summit and serves as the educational arm of BedBug Central. The program was developed by BedBug Central entomologists Jeff White and Richard Cooper. More information on BedBug University can be found at http://www.bedbugcentral.com