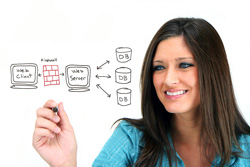 An Analysis for Website and SEO will help any site achieve better Search Engine positioning, resulting in more qualified website traffic.
Toronto, Canada (PRWEB) July 31, 2012
Performing a Website Analysis on a business website can give any company an advantage on the Internet today. A good website analysis involves what is called an On-page SEO Analysis designed to assess the "good, the bad and the ugly". This crucial step can help any business obtain better Search Engine positioning.
A good Website SEO Assessment includes:

Solutions for fixing website structure and coding
Optimizing web page titles and content
Researching best keyword and phrases to use
Measuring search engine ranking via best keywords
and much more.
The benefits of having a Website SEO assessment:
Find out how the competition is successful
Improved search engine ranking
Increased positioning on the search engines
Drive qualified business leads from people ready to buy
Increase business sales
On-Page SEO is one of two main parts that facilitate better ranking on the search engines. On-Page SEO refers to assessing and usually making some changes to a website's web pages, internal code and visible aspects like graphics text and links.
Analyzing the website structure and web pages helps to determine what could be holding the site back from getting more traffic. Those roadblocks can be removed to open the door to receiving more qualified business leads from people "ready to buy". This leads to more business opportunities.
Included below is a partial list of On Page SEO elements required for better SEO:
Analyze current positioning and how it relates to the competition
Analyze how the competition has achieved better ranking
Research Internet search data for the best list of keywords
Investigate traffic statistics in each respective industry
Examine the existing web page code for keywords, descriptions, page titles and linking structure
Submit websites to over 50 major North American search engines
IFM Web Services offers Social Media Optimizing, Search Engine Optimization and Web Design services. Located in the Toronto area (GTA), IFM has helped business achieve an effective online presence and has helped clients as far away as Bermuda and Mexico. For more on Social Media, SEO or Web Design for businesses, visit IFM at http://www.ifm.ca