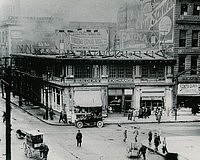 San Francisco, CA (PRWEB) July 30, 2012
Norfolk Redevelopment & Housing Authority (NRHA) Chief Executive Officer Shurl Montgomery accepted four National Association of Housing and Redevelopment Officials (NAHRO) 2012 Awards of Merit at the association's summer conference this week in San Francisco. The awards showcase world-wide best practices in housing and community development.
The awards were for a fire safety program in assisted-rental communities, mobile optimized website, digital photo archive and marketing toolkit for NRHA's Builders and Designers Guild. The fire safety program and mobile website were also nominated for Awards of Excellence, which is NAHRO's highest honor to be named at the national conference in October.
The fire safety program is targeted to reduce kitchen fires in assisted-rental units by 90% through education, training and appliance retrofits. The mobile optimized website is an abbreviated version of NRHA's full website featuring a front page blog and nine key links.
The digital photo archive involved painstakingly inventorying, organizing by neighborhood and digitizing 23,000 photographs dating to 1868, which can be viewed at http://nrha.photoshelter.com. The marketing tool kit was created for NRHA's Builders and Designers Guild comprised of builders, architects and qualified designers, who share a common belief that quality design and craftsmanship are integral components of creating great neighborhoods. Many of these are small to medium size builders that lack full time marketing resources. Marketing tool kit includes:

About NRHA
Founded in 1940, NRHA is a national leader in community revitalization and fostering sustainable mixed-income communities. As the largest redevelopment and housing authority in Virginia, NRHA plays a key role in making Norfolk the city of choice to build, work, play and live.