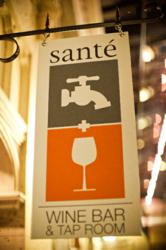 Asheville, NC –
(PRWEB) July 30, 2012 -- Santé Wine Bar and Tap Room in Asheville is pleased to announce its August Flight Night will be held this Thursday, August 2, 2012 at 7:00 PM. Santé's monthly "Flight Night" gives clientele a chance to explore different regions and themes in winemaking each month.
This month's flight features four blended wines from around the world, and Tom Leiner of Grapevine Distributors will be on hand to discuss the wines. The cost of the flight is $15.00 (excluding tax and gratuity) and space is limited, so call or email to reserve your spot today. Featured wines of the night include:
Nederburg "Lyric" '11- Cape Province, South Africa- 56% Sauvignon Blanc, 23% Chenin Blanc, 21% Chardonnay - Passion fruit & citrus
Heartland "Stickleback" White '10- South Australia- 39% Verdelho, 38% Viognier, 23 % Semillon, Rich. Luscious. Vibrant.
Delas Cotes du Ventoux '10- Ventoux, France- 80% Grenache, 20% Syrah - Earthy, stainless-steel aged
Hook & Ladder "The Tillerman" Red '09- Russian River Valley, CA - 51% Cabernet Sauvignon, 20% Cabernet Franc, 19% Merlot, 10% Sangiovese - Juicy and plush
Santé's flight night always features a 5th pour for free, and be sure to "pair it up" with the
Port Salut cheese from Brittany, France. This semi-soft cow's milk cheese is smooth, savory and lusciously tempting!
Santé Wine Bar and Tap Room features North Carolina's first wine-on-tap system, with twelve taps dedicated solely to wine. Additionally, Santé offers four local beers on tap as well as light fare to compliment the wine. Selections include several cheese boards, salads, handmade pizzas as well as an assortment of house-made dips including olive tapenade, hummus, and roasted red bell pepper, among others.
Santé is located in downtown Asheville at One Page Avenue in the Grove Arcade. Santé opens at 4:00pm daily and is also available to book for private parties. No reservations are needed, although large parties are advised to call ahead. For more info, call (828) 254-8188 or visit http://www.santewinebar.com. ###