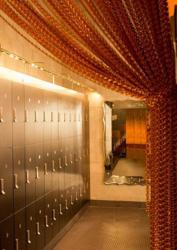 Fitness center interior design branding has become a highly specialized element of a health club-both as a tool of differentiation and as a complement to a gym's marketing platform. Cuoco Black
Miami, Florida (PRWEB) July 31, 2012
In the 1977 docudrama Pumping Iron, former sheet metal worker turned pro bodybuilder Lou Ferrigno is accompanied by his coach and father, Matty, to a training session in a dimly light Brooklyn basement gym. If fitness centers of the era had a benchmark for interior design branding...this gym would be a top contender. A single line of fluorescent lights are strategically centered on the ceiling illuminating a dismal environment replete with interior trappings which personified gyms of the seventies. Wood wall paneling "de rigueur" for the period, swathed the interior providing an ambiance not unlike today's highly prized man-cave. Primitive exercise equipment fashioned from sections of steel tube, angle and plate are welded into unglamorous benches, racks and platforms which effectively served the iron gladiators training regimes. Rectangles of mirror are positioned as instruments of practicality rather than the elegant trimmings of today's slick fitness centers. Finally, through the grainy aperture of the film's celluloid limitations, the gym flooring certainly appears to be cheap commercial carpeting intended to absorb the impact of heavy metal iron plates.
Chic aesthetics and smart branding have usurped the rough hewn and manly design gestures which epitomized gyms of the past. In today's competitive entrepreneurial environment-fitness center marketing no longer employs guerilla strategies of paper flyers, newspaper ads and word-of-mouth solicitation. Slick advertising campaigns, generated by Marketing/PR gurus are embracing social media, print and the Internet in coordinated and carefully strategized efforts targeting specific demographics. "Fitness center interior design branding has become a highly specialized element of a health club-both as a tool of differentiation and as a complement to a gym's marketing platform," says Cuoco Black.
Black, a New York City and Miami based interior designer specializes in fitness center interior design branding. A former natural bodybuilder and faculty member at the New York School of Interior Design, Black's duplicitous skill sets makes for the perfect arbiter of gym design. As an exercise in simplicity Black elaborates on four models of health club design branding, each of which he say's, are commercially successful in their ability to: communicate their brand - penetrate their target market - and convert them to sales.
The first, the chains…which brand themselves as the come one, come all, lowest-price-all-under-one-roof-equipment-facility….employ a smart logo, engaging slogan and an interior color scheme which reinforces the preceding, all as a brand-at a price point that needs no consideration.
The independents as small regional fiefdoms of 3-7 clubs with different levels of commitment to a branding effort. Usually family run and controlled, their longevity is linked closer to the relationships they have built over the decades of community exposure and less to their need to expand and colonize national territories. Their brand is comfortable and familiar, it's "blue collar".
The upscale boutique models, with their sexy magazine/billboard ads intended to appeal to our vanities and egos; offer luxury amenities, a dazzling staff and membership fees-that which mirror the elitist emotions (a brand touch-point) of their recipient demographic.
Finally, the one-up-independents…the entrepreneurial/fitness enthusiast whose love for the game is manifest in a gym embracing all their favorite fitness programs under one roof….with a strong design aesthetic which bears witness to their vision... a utopian mirage of their health club nirvana.
From an interior design branding perspective Black say s each of the differing club models are on-pointe. The chains are fast and easy and well priced, if you're looking for basic fitness, this is a match. The regional fiefdoms don't need to compete as much, they own the geography, you train here because you're comfortable - it's a blue collar comfort zone.. The luxury boutique model and the independents offer the most "brand for the buck". Both of these models require a deeper investment in branding to support that which the other models don't provide. These genres offer specialized programming, upscale interior design, a swank social area and fashion forward sports wear…possibly a non alcoholic wheat grass daiquiri at the health club's "club". With a membership fee that supports these environments, these are the "W" Hotels of the fitness industry.
Borrowing from social media jargon Black says all elements in an interior have to back-link to the company brand. Layout, finishes, lighting, furniture and details have to telegraph the brand says Black. Black's design for Mid City Gym in Times Square, inspired by the film Terminator 2, Judgment Day, is a dramatic and futuristic environment, and considering it's proximity to Times Square...is a dead-on-target-interior-design-brand embracing the theatrical energy of the neighborhood.
Black is designing a upscale fitness center in Ohio. The client's intended demographic is a 50% mix of men and women with top-line incomes. The concept is Grecian-Mediterranean inspired. The client's first reaction to Black's conceptual presentation...."I don't know how you did it but you have melded masculinity to femininity, strength to beauty…in a cool design that will surely sway my target demographic".