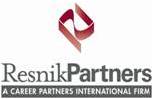 Denver, CO (PRWEB) July 31, 2012
Resnik Partners (RP), a Denver-based leadership development and executive coaching firm that provides services to Fortune 1000 companies worldwide, today announced the promotion of Client Services Associate Tina Brazie to the position of Client Services Supervisor.
In her new role, Brazie, a member of Resnik Partners for more than three years, will supervise the firm's two primary practice groups -- Career Transition, supporting the delivery of customized career consulting services, and Leadership Development, which provides leadership teams with the strategy, training and development necessary to build organizational success. Additionally, she will manage internal operations.
About the promotion, Managing Director Karen Frey said, "We all benefit from Tina's long tenure, dedication, and hard work. Tina started with Resnik Partners in 2009. Since joining the firm, she has consistently delighted our clients, candidates, and co-workers with her thoughtfulness, attention to detail, focus on results, and overall understanding of the business."
Prior to joining RP, Brazie excelled as the Performing Arts Coordinator at South Suburban Parks and Recreation in Littleton, CO. She booked and oversaw a variety of entertainment, including dances, plays and readings, and concerts. Using the expertise she gained from her Bachelor of Arts degree in technical theater, she also spent ten seasons as the Entertainment Supervisor at Elitch Gardens, managing all aspects of performing talent acquisition and management.
"For close to 30 years, Resnik Partners has been a client-centered consulting firm for companies that truly care about their people, and I'm proud to be part of this team," said Brazie.
About Resnik Partners
Resnik Partners (RP), the Denver office of Career Partners International, is a consulting firm that helps organizations improve business performance through executive coaching, leadership development programs and career transition/management services. Founded 29 years ago by Matt Resnik, RP is committed to achieving tangible results for their clients while creating a positive, enlightening and unique Resnik Experience. Locally owned and operated, Resnik Partners offers services worldwide through Career Partners International(CPI), a global consultancy committed to delivering consistent, top-rated services through 69 top-tier global partners with more than 200 offices worldwide. For more information call 303.832.0997, email hresnik(at)resnikpartners(dot)com or visit http://www.resnikpartners.com.
About Career Partners International
Established in 1987, Career Partners International is one of the world's largest providers of talent management solutions with more than 200 offices in over 35 countries around the world. Organizations of all sizes turn to Career Partners International to successfully assess, engage, develop and transition talent using the expertise of 1600+ highly experienced professionals in the areas of assessment, executive coaching, leadership development and outplacement. Additional information can be found by visiting http://www.cpiworld.com.