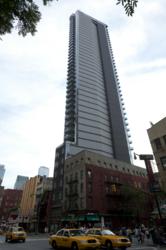 New York, NY (PRWEB) July 31, 2012
Cooper Square Realty, the New York subsidiary of FirstService Residential Management, has been selected to manage icon, a residential rental tower located in the heart of midtown at 306 West 48th Street.
This Ismael Levya designed tower is one of the narrowest skyscrapers in midtown. icon includes 43 stories and 122 apartments and features cascading balconies with glass railings. Amenities include an on-site concierge service, state-of-the-art fitness center, rooftop garden, and meeting/screening room.
Cooper Square Realty has decades of experience meeting the distinctive needs of high-profile luxury high rise properties. The addition of this world-class rental project reinforces the company's standing as the largest property management company in New York City and the preferred management company for institutional owners.
"icon's dramatic design and unique layouts will be complemented by professionally trained staff who devote impeccable attention to every detail," says Marc Kotler, Vice President, New Development Group, Cooper Square Realty. "Residents can trust that every need will be attended to with the highest level of responsiveness and skill."
FS Project Management, the construction affiliate of Cooper Square Realty, has been contracted by the building to manage the completion of apartment and public space renovations and commissioning. The building began leasing apartments in July.
About Cooper Square Realty
Cooper Square Realty is the premier residential property management company in New York City and also offers project management and energy management services. Cooper Square's portfolio comprises upwards of 500 condominiums, cooperatives, and rental properties with an aggregate value of over $6 billion. The company manages more than 70,000 residences that are home to more than 200,000 people. These include distinctive lifestyle properties such as The Plaza Residences, luxury residential towers such as New York by Gehry, new developments, prewar landmark buildings, and apartment complexes. Further information is available at http://www.coopersquare.com.
Cooper Square Realty is a subsidiary of FirstService Residential Management (http://www.fsresidential.com), North America's premier residential property management company, overseeing more than 5,600 properties and over 1.3 million residential units. FSR is a subsidiary of FirstService Corporation (NASDAQ: FSRV TSX: FSV), a global leader in the rapidly growing real estate services sector. Further information may be obtained at http://www.firstservice.com.
###