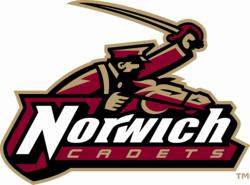 Northfield, Vt. (PRWEB) July 30, 2012
Norwich University head football coach Mark Murnyack announced on Monday that seniors Sean Southworth and Matt Simonelli have been named team captains for the 2012 season.
Southworth, an offensive lineman from Exeter, N.H. will be one of the key cogs in the Cadets' line this season after starting all 11 games in each of the last two seasons. Southworth earned All-Eastern Collegiate Football Conference (ECFC) Second Team honors in 2011 after blocking for a NU ground attack that gained 3,341 yards which ranked sixth in the nation for the second straight season.
Simonelli, a defensive lineman from Scituate, R.I. is coming off a breakout junior campaign where he ranked second on the team with 54.5 tackles and the led the team with 4.5 sacks. He also posted eight tackles for loss, three pass break ups and three pass deflections in nine games played. Simonelli earned All-ECFC Second Team honors as well.
"Sean and Matt are very deserving of this honor," said Murnyack, who enters his second season at the helm of the program. "They have all the characteristics that you want a captain to have. They represent everything Norwich University and our football program stands for. In addition to their character they are both outstanding players and leaders in the weight room."
Southworth is a business major with a minor in accounting and is an officer in the Norwich University Corps of Cadets. Simonelli is a civilian computer engineering major.
The Cadets are coming off winning their second ECFC title in the last three years after posting a perfect 7-0 league season. NU also made its first ever NCAA Tournament appearance last season and the Cadets have compiled a 23-10 record over the last three seasons.
The Norwich University football team will open its 2012 campaign on Sept. 1st when the Cadets host perennial New England Football Conference (NEFC) power Western New England University at Sabine Field with kickoff slated for 1 p.m.
Norwich University is a diversified academic institution that educates traditional-age students and adults in a Corps of Cadets and as civilians. Norwich offers a broad selection of traditional and distance-learning programs culminating in Baccalaureate and Graduate Degrees. Norwich University was founded in 1819 by Captain Alden Partridge of the U.S. Army. Norwich University is the oldest private military college in the United States of America and the birthplace of our nation's Reserve Officers' Training Corps (ROTC). http://www.norwich.edu