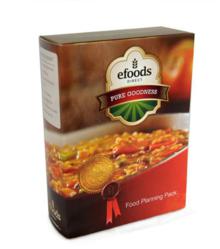 With so many families concerned about the drought and soaring food costs, eFoodsDirect announces new Food Planning Pack to those families interested in preparing for the future.
Salt Lake City, UT (PRWEB) July 30, 2012
Steve Shenk and Barbara Rossberg, founders of eFoodsDirect, today announced that their new Food Planning Packs are available free with only the cost of shipping to families wanting to plan their future family meals on http://www.efoodsdirect.com.
"In response to a broadcast entitled 'Historic drought to bring higher prices' on the Fox News station on July 17th, many families have expressed interest in purchasing storable food at today's prices so they can ensure they are able to feed their families later," said Barbara Rossberg. "The new eFoodsDirect Food Planning Pack makes it easy to plan for future meals."
The eFoodsDirect Food Planning Pack includes 3 easy steps in planning your future family meals:
1. Eat the FREE Meals. Tear open any of the three food pouches included in the Food Planning Pack, add to boiling water, simmer, and in 15 to 20 minutes you have a delicious and nutritious meal. Keep track of how many servings you require to make a meal for your family.
2. Plan Your Supply. Use the simple Planning Guide included in the Food Planning Pack to determine how many servings you require to meet your specific food plan. Remember to plan for the meals you "Eat Today" and "Store for Tomorrow".
3. Select Your Solution. Once you know how much food is right for your situation, your decision is made. Order your supply with confidence.
Included in the Food Planning Pack are three pouches of quick fix meals (each containing four one-cup servings), the Food Planning Guide, and a bonus audio CD recorded by noted food authority, educator, and co-founder of eFoodsDirect, Steve Shenk. The audio CD discusses a number of issues impacting our food supply today.
"With soaring food prices, many Americans are interested in not only feeding their families healthy meals now, but they also want to make sure they can feed them in the future," said Steve Shenk. "eFoodsDirect offers a solution with the new Food Planning Packs to the many families who want them."
eFoodsDirect offers storable food available to smart families who want to bypass traditionally hard-to-fix food storage for more affordable, delicious and nutritious family food security. Some family favorites include Beef Stroganoff, Cheesy Chicken Rice Casserole, and Pasta Fagioli Soup (and many others) that are delicious, affordable, healthy and easy-to-fix.
eFoodsDirect is conscious of family dietary needs and offers packages labeled with icons designating meals that meet specific dietary requirements. All eFoodsDirect meals are vegetarian, kosher, irradiation-free, have no added MSG, have no hydrogenated oils, are not genetically modified (Non-GMO), and more. Icons designate eFoodsDirect options that are lactose-free, gluten-free, soy-free, and more.
eFoodsDirect offers a wide assortment of delicious gourmet soups, entrees, breads, casseroles and breakfasts that family members will want to eat every day. eFoodsDirect meals are easily prepared—simply add the contents of the pouch to boiling water and simmer for fifteen to twenty minutes.
To get the Food Planning Pack free from eFoodsDirect, please visit http://www.efoodsdirect.com.
About eFoodsDirect:
Founded by nationally known food-reserve experts Steve Shenk and Barbara Rossberg, each with over thirty years of food experience, the company's goal is to help all American families have delicious, affordable, healthy, storable food insurance from eFoodsDirect. eFoodsDirect is the only company to offer "Serve Today and Store for Tomorrow" Family Food Security Packs available in a delicious meal assortment of affordable one-month, three-month, six-month and one-year Family Food Security Packs on the eFoodsDirect Website at http://www.efoodsdirect.com.