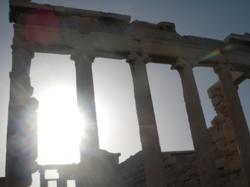 KURU shoes allow the wearer to stand, walk, and wander in the world's most comfortable shoe.
Salt lake City, UT (PRWEB) July 31, 2012
KURU Footwear builds shoes ideal for travel. KURU's scientifically sound design, built entirely around the shape of the foot, allows the wearer to stand, walk, and wander in the world's most comfortable shoe. Here are five reasons KURU hopes will encourage fellow adventurers to plan a trip this fall, and take KURU shoes with them.
1. The economic climate is in favor of travelers: The prices for travel packages to Europe are considerably more reasonable than in recent years because of the European economic downturn. Too bad for them – great for you. If you have ever wanted to see the Pantheon, Sistine Chapel, or the Alps, now would be the time to do it. And be assured, when you climb the 414 steps to the top of the Duomo in Florence, you will want to be wearing good shoes.
2. Traveling gets your blood pumping: Where ever you travel, chances are you have turned the TV off and are outdoors walking on cobblestone streets, 5th Avenue, or along a beautiful beach. Most travelers want to experience everything their destination has to offer, and that usually means not sitting around. Traveling has many health benefits among which is that traveling is a workout.
3. We live in a small world: As the weather cools the allure of sun drenches beaches and drinks with umbrellas usually heightens for travelers. Or not. Perhaps you are more attracted by the crisp air and fiery colors of American northeast foliage. Whatever your ideal spot, chances are there is a flight leaving for that destination soon. Travel has never been so easy and convenient; so get out there and take advantage of opportunities to see the world.
4. Traveling relieves stress: Traveling relieves stress by offering a change of scenery, removing you from your responsibilities, and giving you a new focus. Even if you are still experiencing the stress of a meeting packed conference in a large city, you are experiencing good stress because it's different. They say a change is as good as a rest, and that is especially true when it comes to traveling.
5. A good education: Traveling will expose you to different people, languages, accents, food, and cultural experiences even if it's just for a short time and only a state away. It will break up the monotony of your life and give you the opportunity to learn something new. And, if nothing else, a trip to the glow worm caves on the North Island of New Zealand will give you a great story to tell at parties and make you more interesting to you dates.