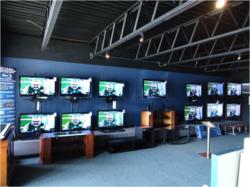 Why Shop at the Big Box Store when TV City can Save you More!
Hamburg, NY (PRWEB) July 30, 2012
TV City, a family owned and operated home electronics provider in Hamburg, New York, recently announced the most innovative ways that it gives back to the community that has supported its business for the last four years.
Over the years, TV City has grown to be one of the local community's greatest supporters. One of the ways in which the company helps the neighborhoods it serves is by making donations to local Little Leagues. Thanks in part to the company's generous contributions, these childrens' baseball leagues have been able to provide children and families throughout the community with hours of outdoor fun. TV CIty's support has helped with everything from purchasing team supplies and uniforms to funding the maintenance costs of the fields.
In addition to the local Little Leagues, TV City is also a proud sponsor of local charities and benefits. The company has offered televisions and financial support to a number of local benefits. By doing so, the company hopes to foster a greater sense of community while helping those less fortunate.
"TV City is proud to be known as your headquarters for all your HD television needs," said Mark Lesinski, owner of TV City. Customers visiting the company's showroom will find a broad selection of modern, televisions that feature the latest technology. TV City's goal is to carry a variety of televisions that fit all budgets. To further help customers get the TV they want, the company also offers financing options with no credit check and no interest. For more information about TV City and the products they offer, visit the company's website at http://www.tvcitybuffalo.com.
About the company:
TV City is a locally owned and operated electronics dealer specializing in Televisions and Television accessories. TV City opened on September 9th 2008 and owned by Mark Lesinski and Alexander Arcese. Mark and Alex have a combined 20 years experience in management and operations. Together they have brought that experience to TV City to provide the people of Western New York with the best name brands such as Samsung TV, Sony, Panasonic, LG and many more as an alternate to spending your hard earned money at one of the big box stores. TV City also provides the knowledge that the big box stores do not have so they can provide their customers with exactly what they are looking for in a new TV. For more information visit their website at http://www.tvcitybuffalo.com.