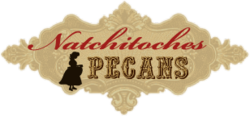 More than anything, we hope that this new design will make our customers' experience with us even better than before.
Cloutierville, LA (PRWEB) July 31, 2012
Natchitoches Pecans, Inc. announced the launch of their redesigned website and pecan online store this week—one that offers customers an enhanced user experience and improved knowledge of the family-run company's story and pecan products.
The company overhauled the site in order to make it easier to navigate, and to provide customers with more detailed information on each of its individual pecan selections offered on their online store. The result is a sleeker, simpler to use website. Previous customers will recognize the trademark pink gingham and warm oak theme that has always greeted visitors.
"Our business grows every year—we redid the website because we had outgrown the old platform, and we wanted to make it easier for our clients to find and order everything they're looking for," explained co-owner Julie Swanson. "But we kept the gingham and oak look because that's who we are; we wanted to make it clear that we're still the same company with the same values."
Natchitoches Pecans' new website boasts detailed graphics that allow customers to view products up close; helpful customer reviews and recommendations; and a fast, secure checkout system. In addition to the online store's inventory (which include roasted pecans, fancy shelled pecans, pecan pralines, and more), Swanson and her family have also compiled pages' worth of pecan-related information and made them available on the site. From pecan trivia and recipes to history about the Natchitoches Pecans store and orchard, the site has plenty to offer customers interested in more than just making purchases.
"Our family has been producing fresh delicious pecans for over 25 years," said Swanson. "But our focus on excellent customer service is what has made us successful—and that's what inspired us to redo our site. More than anything, we hope that this new design will make our customers' experience with us even better than before."
ABOUT NATCHITOCHES PECANS, INC.
Established in 1987, Natchitoches Pecans, Inc. is a family owned and operated pecan orchard. Mark Swanson sees to the everyday operations, his wife, Julie, takes care of Little Eva's Pecan Store and the mail-order business, and their mothers, brothers, sisters, nieces, and nephews all help wherever needed. Natchitoches Pecans is proud to provide high-quality, gourmet Louisiana pecans for all of its customers. For more information, or to place an order online, visit http://www.natchitochespecans.com.