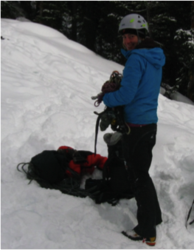 "I am very happy to get under five hours, which is what I was shooting for, " Katie Bono, RMI Guide.
Mt. Rainer, WA (PRWEB) July 31, 2012
RMI Guide Katie Bono completed a speed ascent of Mt. Rainier on July 24th, setting a new benchmark for what is believed to be the fastest climb of Mt. Rainier by any female climber. Leaving the trailhead at Paradise, Bono climbed the Disappointment Cleaver Route to the summit and returned to the Paradise trailhead in 4 hours and 58 minutes. The climb is typically completed in 2 days.
Bono departed the trailhead outside of the National Park Service's Paradise Visitor Center (5,400') at 6:07 a.m., reaching Camp Muir (10,080') at 7:45 a.m. She ascended the remaining 4,330' to Mt. Rainier's 14,410' summit; reaching the top at 9:47 a.m. Bono descended the same route in 1:18, reaching the trailhead at Paradise at 11:05 a.m.
"I started thinking about a speed ascent last year, but nothing too seriously," explained Bono. "This year, I spoke with some other RMI guides for advice and started to plan out the climb meticulously. I had a timeline for each segment, and for the most part I hit them," said Bono. "I am very happy to get under five hours, which is what I was shooting for." Bono described the route as straightforward and direct, minus the rocky section of Disappointment Cleaver itself, where she expressed difficulty keeping "the high-RPM, small steps" she was able to use on the remainder of the route. "The run back down from Camp Muir to Paradise was surprisingly hard," said Bono. Read Bono's complete account of her ascent on the RMI Blog.
Bono effort is significant not only because it is believed to set the female speed record but also because she now adds a female presence to a list of speed climbs which has been exclusively male dominated. The first known speed ascent was made by Lou and Jim Whittaker, with John Day, in 1959 (7 hours, 20 minutes). Craig Van Hoy (5 hours, 25 minutes; 1981), Justin Merle (4:49:35; July 9, 2008), and Liam O'Sullivan (4:46:29; August 5, 2008), all former Rainier Mountaineering, Inc. guides, successfully lowered the record times until September 17, 2008 when renowned guide Willie Benegas completed the round trip in 4:40:59. Benegas' record currently stands.
Bono is a climber, runner, NCAA cross-country skier, and guide for RMI Expeditions.
---
Rainier Mountaineering, Inc (RMI Expeditions) is one of America's most reputable and long-standing guide services with over 43 years of mountain guiding experience. An American Mountain Guides Association (AMGA) accredited guide service specializing in mountaineering expeditions, alpine climbing, trekking and ski touring programs, RMI is committed to leading exceptional mountain adventures.