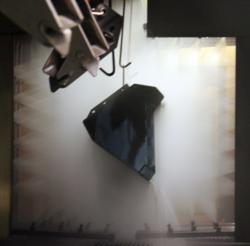 Radius Steel Fabrication is a global leader in supplying industries the highest quality fabricated equipment.
Sioux City, Iowa (PRWEB) July 31, 2012
From one inch round to 25'ft long and weighing 3600 lbs, Radius Steel Fabrication – SOO Tractor processes tens of thousands of parts through its five powder coating systems - and it does it automatically. The company manufactures equipment for original equipment manufacturers (OEM's) that service the agriculture, mining, heavy equipment/construction, refuse, oil and gas, and other industries.
The staggering number of different parts that are processed through the paint finish cycle at Radius Steel – SOO Tractor begin with the shot blaster that removes mill scale and iron rust. Travelling by an automated 1720 feet conveyor system, the parts then proceed through a five stage stainless steel washer, on to the finitely temperature controlled, state of the art powder-coating room. Here photo sensors automatically adjust paint gun movement and triggering to accommodate different size parts and application consistencies. The part passes through the Infrared (IR) Preheat system, and then continues to the convection-drying oven for 40 minutes, with temperatures reaching 400 degrees Fahrenheit, drying and curing the paint finish. From the ovens, the part advances through the cooling tunnel and finally arrives in the assembly department. The total time for the powder-coat pretreatment, finish, and curing can take up to 3.5 hours.
Crucial to superior corrosion resistance and paint adherence is the 5-Stage pretreatment wash. All parts are conveyed through a five stage stainless steel washer using a new generation of conversion coating technology. In stage 4, BCI's technology transforms the part from a metallic surface to a non-metallic surface. The new BCI coating is saving Radius Steel – SOO Tractor 30 - 40% over the former nano-ceramic technology, as well as a 25-minute decrease in testing time dedicated to each titration test – a test that can be performed up to 3 times a day. "We are always striving to become more efficient. Installing the BCI Technology was a simple process that now allows us to quickly increase efficiency in productivity and continue to offer customers the optimum paint finish available," says Plant Manger, Mike Felts. "The overall cost savings together with increased productivity help us to be more competitive in the marketplace."
BCI Surface Technologies is a world leader in the metal pretreatment industry, including aerospace, architectural, automotive coil coating, and general industrial manufacturing. "The knowledge and continual support throughout the technology transfer that BCI brings to help its clients to be successful is both a partnership approach and asset to any company," says Mike Felts.
BCI reinvests a large portion of its revenue in research and to the development of new technologies that will give their clients a better, more environmentally friendly product. BCI's Technical Service Representative, John Anderson, attributes, "Radius Steel – SOO Tractor is a true partner in business that really cares about their customers, products finishes, and most importantly, our environmental impact."
Radius Steel – SOO Tractor has been incredibly successful with the powder-coated finish of its many products since 1994. The new pretreatment coating method leads to a better manufacturing process. This in turn creates not only a more long-lasting, durable finish but also a manufactured product that complies with their long reflected conviction to pollution prevention, responsibly managing the company's potential impact on the environment.
About Radius Steel – SOO Tractor:
Radius Steel Fabrication - SOO Tractor is an established and leading steel fabrication company in the United States producing exceptional products for a range of classic brands, amongst them, Massey Ferguson, AGCO, Hesston, Challenger, Wil-Rich, SmithCo Side-Dump, and Silent Drive.
Radius Steel Fabrication - SOO Tractor was established in 1941 to meet the needs of the agricultural machinery industry and has become renowned for the quality of its customized steel fabrication; setting new standards of environmental protection and exceeding the requirements of its clients and partners. We are proud of our ISO 9001 certification and in the satisfaction of our customers.... we have a warranty rate of 6/10th of 1%.
Radius Steel Fabrication – SOO Tractor's tradition of excellence provides customized fabrication integrated with electronics and cutting-edge technology to an expanding range of industries amongst them, Telecommunications, Military/Defense, Heavy Equipment/Construction, Refuse, and Oil and Gas.
For more than 70 years of service, Radius Steel Fabrication - SOO Tractor's core values are strong: We believe in providing exceptional quality; we believe in the value of "American manufacturing"; we believe in being the best at what we do."
For more information about Radius Steel Fabrication and to learn what we can do for you, please visit: http://www.RadiusSteel.com