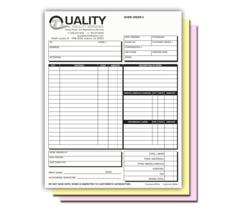 Every business uses forms in one way or another. They are an outstanding way to keep a business organized and efficient.
Sacramento, California (PRWEB) July 31, 2012
Sacramento printer and online leader Avalon Printing & Graphics has launched an improved carbonless form printing service for its business customers. Avalon customers can now access a greater variety of color selections, quantity breakdowns and finishing options to create forms that enhance business productivity. Avalon is a leading provider of digital and offset printing services including brochure printing, postcard printing, banner printing and a variety of custom printing applications.
Carbonless forms are quite popular in many different industries. Educational institutions use them to keep track of class changes and record reporting. They are also often utilized by companies that make deliveries and need a signature confirmation. There are many construction, real estate and legal companies that employ carbonless forms.
"Every business uses forms in one way or another," said Avalon Printing & Graphics Marketing Director Joshua Frank. "They are an outstanding way to keep a business organized and efficient. They also can offer customers or vendors an instantaneous record of their transaction or correspondence with a company."
There is virtually no limit to the styles of forms that can be created and their uses are innumerable. Most people think of a simple black-and-white carbonless form. While this is an easy-on-the-budget method of using these forms businesses often look to add colorful graphics like a company logo or they take advantage of color-coding their forms in order to make them more useful in their day-to-day use.
For more information about Avalon Printing & Graphics and their carbonless printing services on offer please visit http://www.avalongraphics.com/product/carbonless-forms or call their friendly customer service representatives at (800) 565-0987 or (916) 786-2046.
About Avalon Printing & Graphics
Avalon Printing & Graphics is a Roseville, California based printer that currently serves tens of thousands of happy clients and whose printing operation began in 1990. We offer a wide variety of standard printing products including business cards, letterheads, newsletters, envelopes, postcards, booklets, carbonless forms, invitations and magnets. In addition, Avalon is a leader in the production of display printing like banners, yard signs, sandwich boards, posters, car magnets, banner stands, canvas prints and window displays. Avalon provides expert technical and customer support and quality printing that is unmatched in the region. Avalon is an ecologically conscious printing company and takes care to consider its impact on the environment.