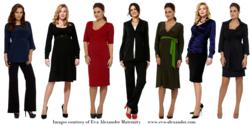 Finding a stylish maternity dress is not only about fashion, it also requires an understanding of your figure.
London, United Kingdom (PRWEB) July 31, 2012
Maternity wear today is attractive, sexy, comfortable and stylish. It's designed to compliment a woman's changing body and make her look and feel great throughout the nine months of pregnancy. One must have essential during this time is a good maternity dress. Finding a stylish maternity dress is not only about fashion, it also requires an understanding of a woman's figure, the styles and designs that complement her body type, and a good knowledge of fabrics that are soft, comfortable, and durable. Regardless of whether a woman is short, tall, extra curvy or slightly built, there are a variety of maternity dresses to choose from that will look great on each and every shape.
Understanding body shape is the first and most essential rule for dressing fashionably. As Coco Chanel once said, "Fashion is architecture: it is a matter of proportions."
Short Women – Short women look best in streamlined tailored clothing. Consider dresses that are all one colour paired with heels, a look that will add inches to a small frame. Dresses with an empire waist are a great look too because it creates the illusion of longer legs. If prints are in season, look for smaller prints, delicate details, and subtle embellishments. Avoid large prints, floaty fabrics and tent dresses that will overwhelm a small frame. Colour blocking typically doesn't work well because it visually "chops you up" and makes a woman look shorter than she is. Any colour blocking that is done should be about accenting a base colour rather than breaking up a silhouette into large blocks of colour.
Full Figured Women – For women who are size 18 and over, there are now even more maternity wear choices than ever before. An important point to remember is that clothes should outline a woman's body, accentuate cleavage and complement the waist. Choose maternity dresses that have a lot of movement and divert attention from the thighs, hips and tummy. Wrap dresses are ideal because they skim the waist, enhance cleavage and hide a multitude of sins. Look for darker colours that will also create a sliming silhouette.
Pear Shaped Women – The classic pear shaped woman has rounded hips and thighs that are slightly wider than her shoulders. The best looks on a pear shaped woman are styles that have a shapely waist, balance the upper body and draw the eye to the shoulders and arms. Look for empire waist dresses because they focus the eyes to the narrowest part of the body. Dresses with fitted tops and A-line skirts are also a great style. Avoid mini-skirts or baggy clothes, both will draw attention to hips and thighs.
Apple Shaped Women - The classic apple shaped woman has a large bust, narrow hips and slim legs. Body conscious dressing for apple shaped woman is about accentuating the cleavage and legs. Look for open or scoop necks that expand the chest area and make a woman look more in proportion. Solid colour, crossover, and wrap dresses are also ideal. Avoid horizontal stripes, large prints, dresses that are too baggy and ruching at the shoulders.
How to Make Good Choices When Buying a Maternity Dress
Choose maternity clothes that accentuate a woman's best assets. Focus on fabrics that are fluid and drape well. A bump-flattering wrap dress may look great on the hanger, but if the fabric is clingy, itchy or is prone to static and sticks to your undergarments, it will end-up in the back of the closet never to be worn again.
Pick brands wisely. A cheap dress is great for a week on the beach, but after a few washes the fabric pills, the colour fades, and the fit and shape of the dress have deteriorated. In difficult economic times value for money is important and fashion is more about fewer quality pieces that will continue to flatter a woman's shape and look great regardless of how many times it's washed and worn. When buying designer maternity wear, make sure it is quality and good value for money.
Don't confuse Fad with Fashion. Current fads often don't translate well into maternity wear. Choose colours that complement your skin tone and hair colouring. Dress to complement your shape by picking styles that are simple but classic and cut to accentuate your assets.
Maternity clothes must be adjustable. Women who are going through pregnancy the first time around are often surprised. Only in the second trimester, have a few pieces have been purchased. The third trimester is when a woman really begins to grow and if the first few maternity wear choices weren't well made, she'll be out shopping once again. Look for maternity wrap dresses which are always very flexible or maternity dresses with ruching, layering, or pleating in the front. These types of styles should see any woman through her pregnancy and beyond.
Following these guidelines will make every woman look fantastic during her pregnancy!