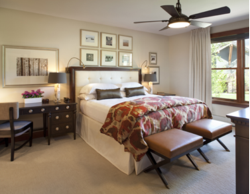 (PRWEB) July 31, 2012
This fall, the Snowmass Club Residences will undergo a full interior design renovation, a project that will be spearheaded by an architecture and interior design firm based in Aspen and Denver, Colorado. Alpine Property Management's Erik Cavarra, a Managing Broker at the Aspen, Colorado based real estate and vacation rental firm, intends to keep all interested parties as up-to-date as possible on the Snowmass Club Residences renovation. In order to share the latest news on the interior design project, Cavarra has created a design and renovation brief that supplies a quick overview of the renovation project, and the brief includes images of the existing interior spaces alongside images of the Phase 1 residences, the two and three bedroom Residence units at the Snowmass Club, once they have undergone the renovation. The new interior design concept can be described as a clean and contemporary mountain interior design. Sarah Broughton of Rowland+Broughton Architecture, the firm that is spearheading the interior design project, explains that the "design intent behind the remodel is to update and brighten the residences while maintaining the comfort, elegance and traditional mountain style of Snowmass". Essentially, the design concept will bring appropriate and comfortable mountain-inspired design elements to the Snowmass Club Residences.
The remodel of the Snowmass Club Residences will include many new pieces of furniture, flooring accessories, and artwork. New furniture will be introduced into the living room, kitchen, and bedrooms, and will be of a size and design that properly fits into each living space. It has been made clear that, when possible, existing furniture will be used in the remodel process. Wood flooring will be installed in the living and dining rooms, with the inclusion of an area rug where needed. Bedrooms and common areas throughout the Snowmass Club Residences will see the installation of new carpet. All existing accessories, artwork, and bedding in the Residence units will be replaced with pieces that speak to the new clean and contemporary design. In regards to overall comfort, lighting will be improved in the kitchen with LED lights to be installed underneath the cabinets. Additional and new lighting fixtures are set to be included in the bedrooms and other living areas with an eye towards improving the overall lighting environment. Add to this new window treatments, televisions mounted on adjustable swinging arms, and new wallpaper in the powder room. The renovation of the Snowmass Club Residences is slated to occur from September 21 – December 14, 2012. For more information about the Snowmass Club Residences renovation, contact Managing Broker Erik Cavarra at Alpine Property Management.
---
Alpine Property Management is a management company based in Aspen and Snowmass Village, Colorado. With 70 years of cumulative property management experience, their mission is to provide an exceptional overall experience and efficient, detailed service for both those renting a property and for those owners renting out their property. Alpine Property Management brings their passion for excellence and their attention to detail in providing outstanding services to guests staying in rental properties ranging from rental and private homes, condominiums, and townhouses in Aspen and Snowmass Village.