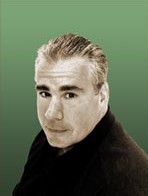 Most of the street guys I knew didn't even read," Stella said, "and if I wasn't writing I'd be dead or in jail.
(PRWEB) July 31, 2012
August will be a big month for New Jersey-based novelist Charlie Stella. It will mark the publication of "Rough Riders," his eighth crime novel. But it will be a busy month too, since he will have a deadline looming on his MFA thesis project.
Stella is a student in Southern New Hampshire University's Low-Residency MFA program in Fiction and Nonfiction. "Most students come to our program looking to develop skills that Charlie already has," said novelist and program director Diane Les Becquets. "They want to learn how to write well enough for publication, and how to get published. Charlie's resumé says, 'Been there, done that, still doing it.'"
So why take the trouble to earn this advanced degree? At first the answer was very simple. "My day job was getting outsourced overseas, and I was panicked about money," Stella said. "I thought this would be a credential that might help me find a job teaching writing."
It still might, but it's already done other things as well. In his progress through the SNHU program Stella has not only found himself reconnected to a life-altering aspect of his college career, he has also settled on a whole new direction in his creative work.
Stella grew up on the mean streets of Canasie, in the Brooklyn of the 1960s, and the gritty authority of his crime novels comes from the sort of first-hand experience that doesn't usually produce novelists. "Most of the street guys I knew didn't even read," Stella said, "and if I wasn't writing I'd be dead or in jail."
Unlike most of those guys, Stella went to college—if only to play football at Minot State College in North Dakota. But there English professor Dave Gresham made him read George V. Higgins' classic Boston mob novel, "The Friends of Eddie Coyle." Stella said, "I couldn't believe it. The people I knew talked just like that. That's what turned me on to the power of the written word."
After college Stella went back to New York. He found some legitimate work, and for a time some not so legitimate. But he was also writing. He wrote plays, three of which were produced off-off Broadway; short stories, a number of which were published in crime and mystery journals; and the critically-acclaimed novels, starting with "Eddie's World" (Carroll & Graf, 2001). Stella did three more novels with Carroll & Graf, and two with Pegasus. His most recent, "Johnny Porno," was issued by Stark House in 2010, which is also publishing "Rough Riders."
The new novel forsakes Stella's usual Big Apple settings for the plains of North Dakota, but it is a characteristically hard-boiled tale about the hit man from "Eddie's World," Eddie Senta, and his failed attempt to go straight. Stella's website betrays the author's self-deprecating humor, listing under "Blurbs" such tributes as this from Tony—"Charlie's writing books now? They must have a lot of pictures." But Publishers Weekly is on record for liking the words: "Fans of the leaner, meaner novels of Elmore Leonard from 20 years ago have great reading waiting in every new Stella." And "Rough Riders" is receiving no less advance praise than previous novels: "A delight" (Booklist); "Start right in on 'Rough Riders.' You'll love the ride. Then read everything else he's done" (Men Reading Books).
Stella's own reading, though, is hardly confined to the crime genre. It wasn't so much the subject matter of "The Friends of Eddie Coyle" that electrified him as its literary punch, and he finds no less power in, say, Katherine Towler's contemplative trilogy of novels about island life in Narragansett Bay. "I read them all, wrote her a fan letter," Stella said. "I didn't even know she was on the [Southern New Hampshire MFA] faculty until after I got into this program."
Now Stella is writing a critical essay on the dyspeptic suburban novels of Richard Yates and getting excited about such unorthodox narrative techniques as Jay McInery's second-person voice in "Bright Lights Big City." And the book he is writing as his MFA thesis project is a complete departure from his previous work. "I'm not sure yet if it's going to end up as memoir or autobiographical fiction," Stella said. "But whatever, it's cathartic. It's about the sort of —let's say, 'stuff'—you had to deal with, and that I still deal with, growing up the way I did."
"Like Canasie, the manuscript is tough and unblinking," said Stella's current mentor, narrative nonfiction writer Richard Adams Carey. "But it's also beautifully crafted."
"Charlie's presence has been inspirational to other students in the program, and he's also been a great community member," said Diane Les Becquets. "Everybody should read the blog on his website, 'Temporary Knucksline,' which is often hilarious and covers a whole range of subjects—literature, sports, music. But he also includes reviews of books published by people in the program, and is taking the trouble to write profiles of each of our graduating students and their work. The respect and affection he accords his peers has been wonderful."
"I did just about everything wrong coming up," Stella said. "But this has been working out alright."