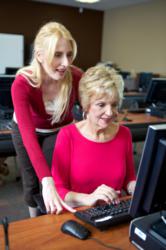 With increased knowledge of social media platforms, email and search, seniors are keeping their mental agility.
Elk Grove Village, IL (PRWEB) July 31, 2012
It's hard to deny that the internet has really changed the way most of us communicate, learn and live. For the most part, society sees the advantages of technological progress and has been quick to engage with the latest tech trends. There are a few groups that do linger behind. One of the largest groups that haven't hopped on the internet/tech bandwagon is senior citizens.
Some seniors are resistant to change, others simply so not see value in it and a portion of the group doesn't trust the internet. Regardless of the numerous barriers that exist, many governments around the world are seeking to educate senior citizens to make them a bit more tech savvy.
Earlier this month, the Australian state of New South Whales invested $500,000 to fund technology training programs throughout the state. This initiative is to help deal with the rising senior population in NSW. The goal is to familiarize the older population with Skype, email, iPads and smartphones so they may better communicate with their family.
At the Jacksonville Senior Center in Alabama, computer classes have begun using computers from the Jacksonville Public Library. One member of the center has learned to browse the internet and enjoys its convenient nature. As opposed to a library, she argues, you don't have to hunt around to find information.
Pew research released earlier this year has found that a great number of seniors are in fact moving online. The study concluded that over half of Americans 65 and older are going online. Another interesting conclusion was that this is the fastest growing segment of online users.
This is coming as good news for seniors, healthcare workers and families. With increased knowledge of social media platforms, email and search, seniors are keeping their mental agility. They are also able to stay in contact with loved ones, maintain regimens and stay up-to-date with local and international events.
One of the best things about helping seniors become more adept to using the internet is their demands are basic. Teenage boys need an advanced graphics card for their gaming, business people need a great deal of RAM for their spreadsheets and documents, architects need advanced software programs, the list goes on. Most seniors exploring the internet's full functionality really just want to chat with their family, browse pictures, look up recipes, etc. Even a used desktop computer or laptop more than fulfills the needs senior have.
Belmont Technology is a secure and trustworthy site to buy used computers online. With a variety of brands and models, a shopper of any age is sure to find what they're looking for. All of our used and refurbished computers must pass a thorough inspection and come with a 90-day warranty. There is simply no reason to shop Belmont Technology for the best selection of used and refurbished laptops and computers online.