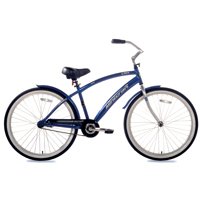 Destin, FL (PRWEB) July 31, 2012
Destin, FL survives by a bustling tourism industry fueled by saltwater fishing, white-sand beaches, and world-class shopping and restaurants. Disaster Relief Supply, a leading emergency preparedness retailer, has recently entered the Destin, FL tourist trade by providing rentals of products like small generators, fans, and beach wheelchairs. With the recent success of such products, the disaster retailer decided to add Mintcraft Aluminum Beach Cruiser Bicycles to its rental stock.
Mintcraft Beach Cruiser Bicycles are offered in men's (colored blue) and women's (colored pink). The bicycles sport a light-weight, aluminum, and weather-resistant frame, perfect for use along the beach. Disaster Relief Supply is starting the bicycle rental program with six total bicycles (3 men's/3 women's) to accommodate families, friends, and other large groups. Renters will also be provided with a bike chain and helmet (price included in the rental).
Pending the success of tourist-geared rentals, Disaster Relief Supply may expand its bicycle inventory, as well as add more diverse products to its rental stock. The bicycles will be rentable for as long as needed, and can be reserved directly through Disaster Relief Supply, and also at a partner site tripshock. For information on Disaster Relief Supply rentals visit drsupply.net, or visit tripshock.com, an attraction booking agency that works almost exclusively along the gulf coast.