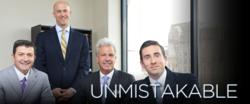 Philadelphia, PA (PRWEB) July 30, 2012
Pond Lehocky Stern Giordano is set to release two educational videos for clients that will assist them during their legal proceedings. Since its inception, the Workers' Compensation and Social Security Disability Firm has been dedicated to providing the highest degree of service to their clients, and the videos will serve as an addition to typical provisions. Pond Lehocky will be the first Workers' Compensation and Social Security Disability Firm in Philadelphia to use this marketing tool.
The videos, one focusing on Workers' Compensation and the other on Social Security Disability, will be released to clients on July 30th and will be available on all of the Firm's social media sites. The objective of the videos is to be informative while remaining client-friendly; they don't contain hard legal terminology or confusing steps that may cause any misunderstanding. This will further increase the understanding Pond Lehocky's clients have of the legal process. The videos are part of Pond Lehocky's efforts to make client communication a top priority while still providing the excellent standard of legal assistance they are known to deliver.
Pond Lehocky Stern Giordano dedicates its practice to Workers' Compensation and Social Security Disability matters. The attorneys at the law firm of Pond Lehocky have over 75 years of combined experience representing injured workers and the disabled. The Firm has three convenient office locations in Center City Philadelphia, Northeast Philadelphia and Pennsauken, New Jersey. For more information, or to set up a free consultation, please call 215‐568‐7500 or Toll Free at 866 Injury Law (866-465‐8795) or visit us online at Pondlehocky.com.