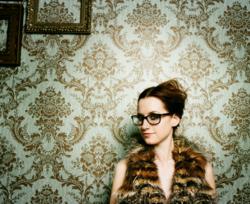 Cincinnati, OH (PRWEB) July 30, 2012
Singer-songwriter extraordinaire Ingrid Michaelson continues to tour in support of her fantastic new album Human Again. This fall she will stop at the Taft Theatre for an intimate evening with her acoustic quartet. She will be joined on this leg of the tour by the fantastic duo Sugar & The Hi-Lows (Trent Dabbs & Amy Stroup).
Reserved tickets, $25 ADV & $30 DOS (plus applicable fees), go on sale this Friday August 3 at 10 AM at http://www.ticketmaster.com, http://www.tafttheatre.org, the Taft Theatre Box Office and all Ticketmaster outlets including select Kroger stores. Charge by phone at 1.800.745.3000.
When she walks into a store in her Brooklyn neighborhood, Ingrid Michaelson is rarely recognized. But once she hands over her credit card to pay, the clerk often pauses, brightens up, and enthusiastically offers a bit of trivia: "Did you know that there's a singer named Ingrid Michaelson?"
Image has never been her priority, but Michaelson has earned enviable name-recognition thanks to her knack for crafting beautiful, idiosyncratic songs such as "The Way I Am," "Maybe," and "Keep Breathing." (Her new album, "Human Again," drops January 24 on Cabin 24 Records/ Mom+Pop Music.) And let the record show that her librarian-chic style has nonetheless received a shout-out in The New York Times.
Michaelson's grassroots sensibility has worked like gangbusters: Her music, often about love and relationships, has wafted out of your television in handfuls of "Grey's Anatomy" episodes (not to mention countless other series since such as "American Idol," "Parenthood," and "So You Think You Can Dance"), in an affecting Google Chrome ad, and on VH1 as an artist You Outta Know. The New York Times marveled that she was "singing her way from obscurity to fame." Billboard trumpeted her as the face of the new music business. NPR declared, "Ingrid Michaelson is everywhere." As an independent artist she has sold over 750,000 albums and 3 million singles.
With "Human Again," produced by David Kahne (Regina Spektor, Paul McCartney) Michaelson throws a wrench in her reputation as the Crafter of Dainty Love Songs. "The album is called "Human Again," because it's taken me a very long time to be happy," she says. "I am writing about a really dark time in my life even though I'm not there." One of her most gutting compositions is "Human"'s first single, "Ghost," a hushed reflection on lost romance that unfurls ruefully from its opening line, "Do remember when the walls fell?" From there, Michaelson plumbs the breadth of human emotion. The feisty "Blood Brothers," in contrast, is a buoyant pop tune that actually "came from a place of annoyance," she says. "Like you're walking down the street, and someone shoulder-checks you while they're rushing by. Wouldn't it be nice if we treated each other like companions? Come on, everybody -- stop being assholes!"
"Human Again" is also a triumph in aural range. The music veers from orchestral (Kahne's specialty) to percussive, while her accompanying voice swells from contralto to soprano. "I think I was really singing out, physically, on this album," she says. "Usually that's set aside for divas, and the rest of us kind of have to whisper and be precious. I figured, 'Why don't I just put that out on at least one record in my career -- let it all hang out?'" No track better captures the alternating thoughtfulness and unrest of "Human Again" than "Fire," a string-laden anthem in which she sings about an emotional slash-and-burn, "I will grow from the ground after you burn me down." Notes Michaelson, "That is kind of a thread that runs throughout the record."
"Human Again" expands on her melodic roots. And it's an ambitious move for Michaelson, one that's even surprised her parents. "My father said, 'Where are all the ditties?'" she recalls, laughing. "I said, 'Well, I think I'm past the ditties, Dad.' I'm done with that part of my life. I'm ready to think a little bolder."