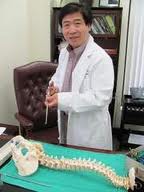 Symptoms can include local or radiating pain, numbness, tingling and muscle weakness.
Edison, NJ (PRWEB) July 31, 2012
Besides the dieting required to shimmy into them, skinny jeans pose another health risk. If they are worn too tight, these jeans can cause a nerve disorder called Meralgia Paresthetica, which occurs when one of the nerves that runs in the outer part of a thigh gets compressed. Here is a tip, the remedy is simple: stop wearing skinny jeans. But the cure is more complicated for the 13 million Americans that go to the doctor annually for chronic back pain, often the result of a pinched nerve.
"A pinched nerve is compression on one of the delicate spinal nerves that branch off the spinal cord and travel to other parts of the body," says Kaixuan Liu, M.D., Ph.D., spine surgeon and founder of Atlantic Spine Center in Edison, New Jersey. "Symptoms can include local or radiating pain, numbness, tingling and muscle weakness." These may worsen while sleeping and be felt far from the point of pressure; for instance, a pinched, or compressed nerve in the lower back may produce symptoms in the calf. With a pinched nerve in the neck, pain is often described as sharp and may radiate into the shoulder and arm.
Tips for treating a pinched nerve.
Initial treatment may include rest, massage, hot/cold therapy, mild exercise, anti-inflammatory or prescription medications, and electrical stimulation. If this treatment is not effective, your physician may prescribe corticosteroid injections. Other options include soft collars, physical therapy, anti-inflammatories or oral steroids.
If it doesn't improve after several weeks to a few months, surgery may be necessary to relieve the pressure and to give the compressed nerve more room to function. The type of surgery varies depending on the location of the pinched nerve and the condition causing it. A pinched nerve in the back may require removing bone spurs that are putting pressure on the nerve or trimming the offending portion of the bulging or herniated disc. "Surgery can be performed as an open procedure where the surgeon cuts open the skin and muscles to gain access to the spine," says Dr. Liu. "Or it can be performed using an endoscope, which is minimally invasive and has a lower complication rate. During an endoscopic procedure, there is no need to cut or tear the muscles because a small incision is made to insert special surgical tools."
What causes a pinched nerve?
A pinched nerve in the back is often caused by a herniated disc, the formation of bone spurs with osteoarthritis, or inflamed tissue, all of which can impinge on the spinal canal and press on a nerve root or the spinal cord. As a result, it cannot properly transmit electrical signals to its peripheral nerves, causing pain, tingling and numbness in the area where the nerve root leads. Similarly, a pinched nerve in the neck can be attributed to overuse, strain, extra body weight, scar tissue, cysts, tumors, poor posture, or osteoarthritis.
How is it diagnosed?
Tests include magnetic resonance imaging (MRI) or nerve conduction study, where patch-style electrodes are placed on the skin to stimulate the nerve with a mild electrical impulse. Another test is electromyography, which measures the electrical discharges produced in muscles.
How can I prevent nerve compression?
Maintaining good posture, incorporating strength and flexibility exercises, and keeping a healthy weight are some of the best ways you can avoid a nerve becoming pinched or compressed. People should also limit repetitive activities and take frequent breaks when engaging in these activities.
About Dr. Liu: Kaixuan Liu, M.D., Ph.D., is a renowned endoscopic spine surgeon and founder of Atlantic Spine Center in Edison, New Jersey (http://www.atlanticspinecenter.com). Dr. Liu is certified by The American Board of Pain Medicine and The American Board of Anesthesiology, and is a member of The International Society for Advancement of Spine Surgery, The American Society of Interventional Pain Physicians (ASIPP), The American Academy of Pain Medicine (AAPM), The International Intradiscal Therapy Society (IITS), and The American Society of Anesthesiologists (ASA). He also serves as an international surgeon for The Spinal Foundations in England.