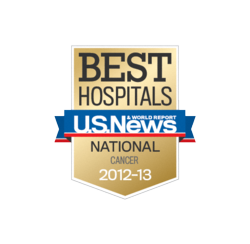 "We are placing significant resources to continue expanding our clinical and research infrastructure to help improve patient outcomes for the most complicated cases."
Hackensack, NJ (PRWEB) July 31, 2012
Continuing to improve their position in U.S. News & World Report, John Theurer Cancer Center at Hackensack University Medical Center ranked among the 50 best hospitals in the United States and is the highest-ranked Cancer Center in New Jersey in the 2012-13 U.S. News Best Hospitals for Cancer.
"This ranking is not only an honor, but also a compliment to the level of care that our patients receive at the John Theurer Cancer Center," said Robert C. Garrett, president and chief executive officer of Hackensack University Medical Center. "Since its opening in late 2010, it has already treated tens of thousands of patients in a patient-friendly, state-of-the-art facility and due to the hard work and expertise of the entire team, it has cemented itself as one of the top cancer centers in the nation."
US News & World Report is a recognized leader in hospital rankings. This year's Best Hospitals, the 23rd annual edition, showcases more than 720 of the nation's roughly 5,000 hospitals. Fewer than 150 are nationally ranked in at least one of 16 medical specialties. The rest of the recognized hospitals met a standard of performance nearly as demanding in one or more specialties.
"In less than two years, we opened a new building that brought our 14 divisions together, joined New Jersey's largest oncology physician network and expanded our Phase I clinical trial program," said Andrew L. Pecora, M.D., F.A.C.P., C.P.E., chief innovations officer, professor and vice president of cancer services at John Theurer Cancer Center. "We are placing significant resources to continue expanding our clinical and research infrastructure to help improve patient outcomes for the most complicated cases."
The hospital rankings, said U.S. News Health Rankings Editor Avery Comarow, are like a GPS-type aid to help steer patients to hospitals with strong skills in the procedures and medical conditions that present the biggest challenges. "All of these hospitals are the kinds of medical centers that should be on your list when you need the best care," said Comarow. "They are where other hospitals send the toughest cases."
"We have aggressive plans to develop more partnerships with academia and industry, invest in new technology, recruit top talent, and further expand our research initiatives to support early drug discovery," said Andre Goy, M.D., M.S., chairman and director, John Theurer Cancer Center. "I want to thank our staff for their tireless support of our mission and for the extraordinary care they provide to our patients everyday."
The rankings were published by U.S. News in collaboration with RTI International, a research organization based in Research Triangle Park, N.C. Highlights of the 2012-13 rankings will appear in the U.S. News Best Hospitals 2013 guidebook, to go on sale in August. The complete rankings and methodology are available at http://health.usnews.com/best-hospitals.
About the John Theurer Cancer Center at Hackensack University Medical Center
John Theurer Cancer Center at Hackensack University is among the nation's top 50 U.S. News and World Report Best Hospitals for cancer – the highest-ranked in New Jersey with this designation. It is New Jersey's largest and most comprehensive cancer center dedicated to the diagnosis, treatment, management, research, screenings, preventive care, as well as survivorship of patients with all types of cancer.
Each year, more people in the New Jersey/New York metropolitan area turn to the John Theurer Cancer Center for cancer care than to any other facility in New Jersey. The 14 specialized divisions feature a team of medical, research, nursing, and support staff with specialized expertise that translates into more advanced, focused care for all patients. The John Theurer Cancer Center provides comprehensive multidisciplinary care, state of the art technology, access to clinical trials, compassionate care and medical expertise—all under one roof. For more information please visit jtcancercenter.org
About U.S. News & World Report
U.S. News & World Report is a multi-platform publisher of news and analysis, which includes the digital-only U.S. News Weekly magazine, http://www.usnews.com, and http://www.rankingsandreviews.com. Focusing on Health, Personal Finance, Education, Travel, Cars, and Public Service/Opinion, U.S. News has earned a reputation as the leading provider of service news and information that improves the quality of life of its readers. U.S. News & World Report's signature franchise includes its News You Can Use® brand of journalism and its annual "Best" series of consumer web guides and publications that include rankings of colleges, graduate schools, hospitals, mutual funds, health plans, and more.
###