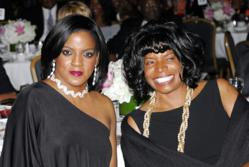 Educating Young Minds' holistic approach speaks to the very core of Mr. Charles' vision for his foundation, specifically his concern for our youth and the tremendous importance of education.
Los Angeles, CA (PRWEB) July 30, 2012
The Ray Charles Foundation has awarded a $1 million grant to Educating Young Minds (EYM), a supplemental learning environment designed to address the comprehensive needs of underserved Los Angeles-area K-12 students. The non-profit learning center founded by Angeles Echols-Brown twenty-five years ago provides tutoring, mentoring, counseling, and college scholarships, among other vital services for families in need. At their facilities on Wilshire Boulevard near Vermont, EYM offers home-school instruction during the day, after-school tutorial, Saturday test prep and basic skills classes, a six-week summer school program and on-line educational and vocational services. Started in Ms. Echols-Brown's one room apartment (where students placed pillows in the bathtub for extra study space), EYM has nurtured nearly 4,000 young people, lifting their intellectual, emotional and academic abilities. Eighty-seven percent of EYM graduates have gone on to four-year colleges and beyond. Several are now instructors, counselors or mentors at the Wilshire location.
The Ray Charles Foundation grant will allow EYM to both increase its outreach and insure its sustainability for years to come, according to Ms. Echols-Brown. Data revealing improved reading or math levels, improved study habits and social skills as well as academic and/or emotional maturity, is measured and documented. Some of the children they serve do not do well in a conventional classroom setting and a number have dropped out of their assigned community schools. Others have problems at home and often have to deal up close with the daily realities of drugs and gangs. It takes working closely with parents and caregivers, and addressing not just academics, but also the emotional, physical and spiritual health issues they face. The Ray Charles grant will allow EYM to greatly increase its reach and scope of its work.
"Educating Young Minds' holistic approach speaks to the very core of Mr. Charles' vision for his foundation, specifically his concern for our youth and the tremendous importance of education," stated Valerie Ervin, President of the Ray Charles Foundation. "The success of these young people, plus the fact that so many graduates of the program return to EYM to help their younger peers would have delighted Mr. Charles to no end."
EYM has come a long way from the early days when Ms. Echols-Brown foraged through dumpsters to recycle discarded furniture and schoolbooks. Today, the program is bringing its services online to reach more children and planning for the opening of satellite centers in the near future throughout the region.
"I want to win with these kids, I want these kids to win," concluded Ms. Echols-Brown. "I want each child to be happy, successful, well rounded and eager to reach back to teach, mentor, encourage and guide others as they were guided. Whether it's in the field of education, health-care, politics, science, sports, arts or technology, they can compete! They can achieve! They just need to believe in themselves and their abilities. We know this to be true. We have the graduates to prove it."
2012 Educating Young Minds (EYM) College Scholarship recipients and presenters: Leroi De Souza, Ashley Canty, Themba Nelson (EYM Graduate 2004, Thomas Cooley Law School 2011, presenter), Shelley Bruce (EYM Graduate 2006,Cal Poly Pomona 2011 B.A. Fine Art, B.A. Gender Ethnic and Multicultural Studies, Dean's Award, presenter), Samy Ibrahim, Sandra Alonzo, Yoseph Alemayu, Betelihem Fekadu, Joseph McGee and Maalik McClain.
For more information visit http://www.educatingyoungminds.org and http://www.theraycharlesfoundation.org.