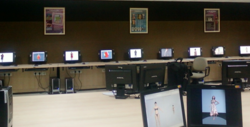 Our goal is to prepare a highly skilled work force for our apparel industry by providing new technologies for improving production and quality.
Los Angeles, CA (PRWEB) July 31, 2012
An additional 224 TUKATECH 2D and 3D systems have been installed in 26 Apparel Training and Design Centers (ATDC) operated by the Ministry of Textiles, Government of India. Altogether, there are more than 2,000 TUKATECH systems used for instruction in Indian fashion schools.
Recently, TUKATECH partnered with the Institute of Apparel management (IAM), which is backed by the Apparel Export Promotion Council (AEPC), to install the very first digital fashion Innovation Lab that offers "Concept to Consumer" training for their Fashion and Lifestyle Design Degree programs, using software and systems that are redefining apparel production and management.
TUKATECH has been updating previously installed systems and is installing and training instructors in the new systems. "Our goal is to prepare a highly skilled work force for our apparel industry by providing new technologies for improving production and quality," said Dr. Darlie Koshy, the CEO and DG, ATDC & IAM, India.
"India has over 400 colleges and teaching centers using TUKATECH systems, making it the largest user of any other country. With many TUKAcenters available for plotting, students have easy access to the technology to complete their assignments," commented Ram Sareen, CEO and Founder, TUKAgroup. "With such wide use of our technology, it helps students gain immediate employment upon graduation.
TUKATECH systems are designed to provide digital solutions seamlessly throughout each stage in the product development chain. With TUKAcad, pattern making, grading, and marker making has never been more efficient and user-friendly. Spec/tech pack and pattern card features allow for seamless integration with TUKAplan, a PDM/PLM and MRP software system. Moreover, with ground breaking 3D virtual draping technology, TUKA3D has redefined the sample approval process. Digital patterns are draped on animated virtual 3D fit models to create virtual samples, allowing for quick and instant corrections to patterns, greatly reducing the number of iterations in sample making. Most of the Fashion Schools also teach with TUKAstudio, a fabric and print design software system.
TUKATECH's new venture, Styku Smart Fitting Room and body scanning technology is being called exciting, new, 'disruptive technology' that is changing the way apparel is designed, fitted, and sold. Styku easily integrates with TUKATECH 3D software, making it easy for designers and brands to implement, and improve their design process.
***
About: TUKATECH, ranked # 1 by the APPAREL SCORECARD globally since 2007, provides affordable fashion design and apparel product development solutions to the apparel and sewn goods industry. We offer a total solution for guaranteed results: consulting, engineering, implementation, and unlimited training.
TUKATECH was the first CAD-CAM company to bring digital pattern making to leading apparel manufacturing countries such as India, Sri Lanka, Bangladesh and many others. TUKATECH was the first CAD company to eliminate the use of Digitizers, and reduced or eliminated Grading and Marker making by automating the process. Our innovative and award-winning approach to streamlining fashion design, development, and manufacturing processes have led leading apparel companies to replace over 4,000 competitive CAD systems with Tukatech.
We are the first and leading company in the world to offer apparel product development outsourcing (APDO) as a service to the industry in 2001 through http://www.tukaweb.com.
About: Styku has created the ultimate platform for apparel retailers looking to solve the fit and sizing dilemma of selling clothing online. Using propriety apparel CAD 3D software (used by apparel brands, retailers and manufacturers) and the revolutionary Microsoft Kinect, Styku developed an ultra-low- cost body scanner that scans a body in three seconds, and then extract hundreds of core body measurements that can be used to select the right size in a particular brand – or create made-to-order apparel. Consumers will soon use the Xbox live platform, or their PC, to scan themselves at home and instantly "try-on" thousands of recommended apparel items and see how they will fit.
For more information, contact:
Elizabeth Thomas
323-640-2515
elizabeth(at)tukatech(dot)com
http://www.tukatech.com
http://www.styku.com