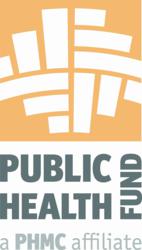 "By making these grants, we proudly continue to serve as a catalyst for a healthier community. We thank all of the grant applicants for sharing their innovative ideas; reviewing them inspired us." says Public Health Fund's COO, Anne Callan
Philadelphia, PA (PRWEB) July 31, 2012
Today, July 31, 2012, Public Health Fund, formerly The Philadelphia Health Care Trust, announced that it will award a total of $1,030,815 to thirteen organizations in its 2012 grant-making process:
•AJ Drexel Autism Institute, "Effectiveness of the Autism Navigator in early Intervention Settings," $50,000
•American Red Cross of Southeastern Pennsylvania, "RESPECT (Reaching Elders & Seniors with Preparedness Education, Concepts & Tools)," $150,000
•Children's Crisis Treatment Center, "CCTC in Montgomery County (two satellite sites)," $50,000
•Children's Hospital for Children, PolicyLab: Center to Bridge Research, Practice & Policy, "Enhancing the Development of Young Children from Diverse Backgrounds," $50,000
•Chemical Heritage Foundation, "Visualizing Our Air, Connecting Citizens to Information About Air Quality in Philadelphia," $50,000
•Drexel University Center for Nonviolence and Social Justice, "Establishment of a Citywide Youth Injury Review Panel," $50,000
•Education Plus, Inc., "School Health Clinic Program," $30,000
•Healthy Philadelphia, "Addressing Unmet Primary Health Care Needs in Northeastern Philadelphia Initiative," $50,815
•Metropolitan Career Center/ Computer Technology Institute, "New Business Model and Program Re-design," $100,000
•Philadelphia Health Care Associates, "Strengthening Home Care in Philadelphia: A New Approach to Balancing Agency Support and Consumer Direction," $75,000
•Public Health Management Corporation, "New Strategic Growth and Capacity," $150,000
•St. Christopher's Foundation for Children, "Community Oral Health Initiatives," $75,000
•WHYY, "Health & Science Reporting Desk," $150,000
"This year's grant recipients represent an exceptional group of community organizations that will continue to uphold our mission to improve the health of the Delaware Valley," says Public Health Fund's chief operating officer, Anne Callan "By making these grants, we proudly continue to serve as a catalyst for a healthier community. We thank all of the grant applicants for sharing their innovative ideas; reviewing them inspired us."
Applications involved a rigorous, two-part submission process. Interested organizations first submitted letters of intent. Those selected by the Public Health Fund grant committee to move to the next step then received invitations to provide detailed proposals. Proposals that demonstrated an ability to leverage funds through collaboration with other programmatic partners and funding sources were given priority, supporting Public Health Fund's commitment to impact population health through system-scale initiatives.
"The Public Health Fund grant provides us critical support, and we're pleased to partner with an organization that understands the importance of educating the community about how science and society interact in the development of health policies," says Jody Roberts, Director of the Center for Contemporary History and Policy at the Chemical Heritage Foundation. "We are thrilled to advance our outreach efforts to educate and inform Philadelphians."
The grant to The Children's Hospital of Philadelphia helps its PolicyLab: Center to Bridge Research, Practice & Policy "to further our goal of achieving optimal child health and well-being by informing program and policy changes through interdisciplinary research," says James Guevara, Associate Professor of Pediatrics & Epidemiology and Director of Interdisciplinary Initiative at the University of Pennsylvania School of Medicine. "We're grateful for the opportunity to continue this vital work."
This marks the 14th year that the foundation has granted awards to local organizations. "Initially, what was The Philadelphia Health Care Trust was created to support healthcare providers in South Philadelphia, and it later expanded to the Delaware Valley," says Richard J. Cohen, president of Public Health Fund. "We are pleased to continue its legacy under the operation of a new board of directors, an updated strategic plan and its affiliation with Public Health Management Corporation."
The foundation joined PHMC as an affiliate in July 2010 and operates with an independent board of directors comprised of members whose backgrounds span the areas of health care, social services, law and business.
# # #
About Public Health Fund
Public Health Fund is a foundation that has fostered health care delivery, research and education in the greater Delaware Valley since 1996, formerly as Philadelphia Health Care Trust. Public Health Fund's mission is to improve the health of the Delaware Valley community through innovative and effective public health initiatives. Learn more by visiting its website at http://www.phf1.org
About PHMC
Public Health Management Corporation (PHMC) is a nonprofit public health institute that creates and sustains healthier communities. PHMC uses best practices to improve community health through direct service, partnership, innovation, policy, research, technical assistance and a prepared workforce. PHMC has served the region since 1972. For more information on PHMC, visit http://www.phmc.org