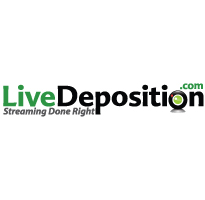 Los Angeles, CA (PRWEB) July 31, 2012
LiveDeposition.com, a leader in web-based realtime streaming deposition solutions, will be exhibiting at the upcoming NCRA Annual Convention and Exposition being held at the Philadelphia Marriott Downtown from Wednesday, August 8, 2012 to Sunday, August 12, 2012.
The actual expo will take place from Thursday to Saturday in the Marriott's Franklin Hall with LiveDeposition.com located in Booth 613. Jason Richmond, VP of Sales for LiveDeposition.com stated, "This is the second year LiveDeposition.com will be exhibiting at NCRA's Annual Convention. Over the past year we have been working hard to improve our product and we are excited to showcase the changes which have been made. Our product experts will be on hand to discuss and answer any questions pertaining to the LiveDeposition.com product, how it can help court reporting agencies drive down costs while increasing revenue and the steps to get started."
Visit LiveDeposition.com at Booth 613 and:
See how LiveDeposition.com intends to shape the future of court reporting.
Experience the simplicity of setting up and managing a live realtime stream through LiveDeposition.com's web-based interface.
Take the LiveDeposition.com Mobile Apps for a test drive and see how attendees can instantly connect from their iPhones, iPads or Android enabled Smartphones and Tablets
See how easy it is to connect your current steno program to LiveDeposition.com.
Learn about the newest features added to LiveDeposition.com
About LiveDeposition.com
Headquartered in Sherman Oaks, CA, LiveDeposition.com is powered by MegaMeeting.com; a long time resident of the video and web conferencing industry. Through their cutting-edge technology, LiveDeposition.com provides the Legal Industry with web-based deposition and video conferencing solutions. Being exempt from typical download and installation requirements, LiveDeposition.com has proved itself to be a hassle-free way to stay connected, allowing court reporting agencies, court reporters, paralegals, industry experts and legal teams to streamline the litigation process and conduct real-time depositions and online meetings.
For more information on LiveDeposition.com please visit http://www.livedeposition.com or call 888.337.6411.