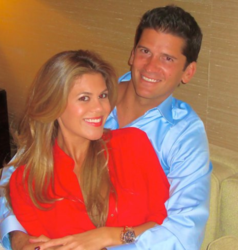 Miami, FL (PRWEB) July 31, 2012
The couple announced their engagement last week and is currently celebrating in Italy. They will marry next year.
Mr. Boich (37) and Ms. Marin (29) met in Spain and have been dating for over two years. They both currently reside in Miami. Mr. Boich recently purchased three properties on North Bay Road in Miami where he and Ms. Marin intend to build a new home.
Mr. Boich is the son of Wayne and Emeline Boich of Las Vegas and Ms. Marin is the daughter of Johanna Marin-Coles and Serge Coles.
The Boich Group of Companies is headquartered in Columbus, Ohio. It is a coal marketing company and a co-owner of the Signal Peak Mine in Montana. Mr. Boich became Chairman and CEO of the Boich Group of Companies in March 2005. Mr. Boich joined the company in 1999 and worked in marketing and finance before becoming Chairman and CEO. Under Mr. Boich's leadership the company has grown significantly and into the international market with the acquisition of Signal Peak.