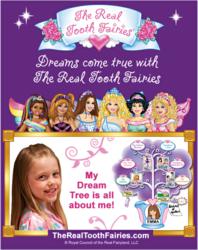 Girls love the creative activity of updating their Real Dream Trees over and over.
Wilmington, NC (PRWEB) July 31, 2012
The Royal Council of the Real Fairyland, LLC announced their Real Dream Trees™, which are now revealed by The Real Tooth Fairies at http://www.therealtoothfairies.com/real-dream-tree. Dream Trees are created by girls and are used to help them achieve their goals and dreams, develop their talents and track the character-building kindnesses they do in their families.
Dream Trees celebrate what's unique about every girl ages 6-10, with the help of her very own Tooth Fairy in the Real Fairyland. The Tooth Fairy takes the girl's first lost tooth and plants a Real Dream Tree that can be seen growing online in the magical Tower of Dreams. There the tree shows each individual girl's goals and dreams and the tree tells the story of each of her talents as she grows and achieves those goals and dreams.
"Girls love the creative activity of updating their Real Dream Trees over and over," says Marilyn Bollinger, President of The Real Tooth Fairies, LLC. "It's so fun for them to see their magic Tooth Fairy in Real Fairyland putting Can-Do Glow and hope and love on their trees!"
How it works is simple. A girl goes online to the award-winning world of the Tooth Fairies at http://www.TheRealToothFairies.com - with her parent's permission – and she gets matched to her own Tooth Fairy during the Royal Quiz, which consists of 4 questions about the girl's interests. This begins a relationship between a Tooth Fairy and an "Earthie," as human girls are called, where the two write back and forth like best friends sharing all of a growing girl's day to day experiences, such as friendship challenges, proud moments and of course, losing a tooth.
When a girl loses a tooth, her Tooth Fairy comes and finds it under her pillow. When a Real Tooth Fairy touches a girl's tooth, she sees that girl's dream in a glowing Heartwing. Like an adoring big sister, the fairy wants that dream to come true for her Earthie girl! Then she plants it in the beautiful Dream Tree vase where it becomes a girl's Dream Tree. Girls can decorate their trees online and add personalized words and pictures that tell all about how they're "Growing and Glowing." With the Real Dream Tree, Earthies display their goals, dreams, talents, and kindnesses. There's even a branch for Ickies – those habits we'd all like to change.
The Real Dream Trees are the brainchild of Bollinger, who has a background in child and family therapy as well as product development for Disney, LeapFrog, and Fisher-Price. "Our goal is to connect with girls in a way that has never been done before. Dream Trees are just one of those ways we celebrate each girl and help her know that she is so important to our world."
About The Real Tooth Fairies
The Real Tooth Fairies are represented to Earthies by the Royal Council of the Real Fairyland, LLC, an entertainment company dedicated to the production of excellence in programming and interactive media, tied to consumer products that inspire imagination, foster creativity, and encourage children to spread kindness and change the world. The Real Tooth Fairies focus on character building through positive role models, the 20 Lost Tooth Virtues, and Every Kindness Counts. In addition, a school kindness program involves students in a 4-week program wherein kids are heroes for kindness in their family, school, and community while supporting a global charity.
Marilyn Bollinger, president of The Real Tooth Fairies, is the author of 30 Disney books and has consulted for LeapFrog, Fisher-Price and other top children's companies. As a licensed clinical social worker, she practices family and children's therapy and is leader of parenting workshops. And of course, she's honored to be the Earth's ambassador to all things Real Fairyland, where Love is Magic and Every Kindness Counts!
For more information on the Real Tooth Fairies, please contact: Rachel Frankel at 910.509.0565.
Learn about the Real Tooth Fairies at http://www.TheRealToothFairies.com/guest-services/about-us. Girls can Get Matched to their Tooth Fairy at http://www.TheRealToothFairies.com/registration.
Girls can ask their tooth fairy to fly personalized tooth fairy letters to their pillow at http://www.TheRealToothFairies.com/ask-magic-letters. Shop for treasures at The Real Tooth Fairies Magic Street Shops at https://shop.therealtoothfairies.com/ For a Guide & Gift for parents to get a free Personalized Tooth Fairy Letter go to http://www.ToothFairyForParents.com. To spread Kindness in your family today go to http://www.therealtoothfairies.com/kindness.