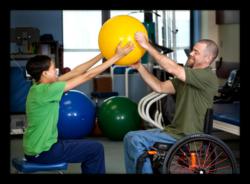 "After coming here, they got me through it and now I'm back to life."
Charleston, S.C. (PRWEB) July 31, 2012
When Rob Duckworth crashed his dirt bike into a tree, about the only thing he didn't injure was his spinal cord. Today, however, he is in a wheelchair.
During surgery for injuries sustained in the accident, he suffered a stroke that impacted his spinal cord and paralyzed him from the waist down. With his life instantly changed, he turned to the Center for Spinal Cord Injury (CSCI) for treatment, guidance and support.
"I was the first patient through. Before the CSCI opened I wasn't sure where to go and I was nervous," said Duckworth. "After coming here, they got me through it and now I'm back to life. I've been able to fish again and even play basketball with a team."
The CSCI opened in June 2011 and is an expansion of the Roper Rehabilitation Hospital (RRH) in Charleston, SC. "Our staff, partners and donors recognized the need for a centralized location in the Lowcountry where people with spinal cord injuries could receive treatment," said Cathy Therrell, director, Roper Rehabilitation Hospital.
The clinic was established in partnership with Medical University of South Carolina through generous donations and grants from supporters such as the S.C. Spinal Cord Injury Research Fund, Charles and Joanne Cole, South Carolina Electric & Gas Company, Wells Fargo and others.
The CSCI is a perfect example of how RRH has grown to meet the needs of the community. While the CSCI marks its one-year anniversary, RRH also marks an anniversary – 20 years of serving the Lowcountry.
Often called a hospital within a hospital, RRH is a full, inpatient rehabilitation hospital located inside Roper Hospital. The goal of the rehabilitation hospital is to help people with disabling injuries or illnesses reach their highest possible level of independence when they are discharged from the program.
Some of the successes over the last two decades include:

Being the first and only rehab facility in the Lowcountry to earn the Commission on Accreditation of Rehabilitation Facilities (CARF) designation;
An 85 percent discharge-to-home rate which is higher than the national average of 81 percent;
More than 15,000 patients treated;
Space expansions to provide private and semi-private patient rooms;
Implementing innovative technology such as metronome therapy and rehabilitation slings;
A record 124 discharges in May 2012.
Roper Rehabilitation Hospital and CSCI focus on healing the whole person and not just the injury. With supervision, patients can participate in the Community Re-entry Program, which offers opportunities to relearn every day skills and hobbies.
"I'm doing a lot of things now," said Duckworth. "I feel like I have my life back. I go to every clinic and volunteer because it feels good to help others. Someone did it for me when I was hurt."
For more on Duckworth's story, click here.
About Roper St. Francis Healthcare
Serving South Carolina's Lowcountry for almost 200 years, Roper St. Francis Healthcare is the area's only non-profit health system and is dedicated to the mission of "Healing All People with Compassion, Faith and Excellence." With more than 100 facilities across 7 counties, the system's hospitals include Roper Hospital, Bon Secours St. Francis Hospital and Roper St. Francis Mount Pleasant Hospital. The system employs a network of more than 200 doctors and has a medical staff of more than 800 physicians covering all specialties. Roper St. Francis Healthcare's more than 5,300 employees pride themselves on being nationally-recognized through Joint Commission accreditations and awards including hundreds earned for patient, physician and employee satisfaction. http://www.RSFH.com.