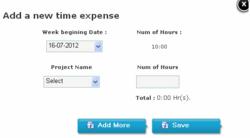 "We continue to listen to our SutiExpense customers and add the features that they want resulting in significant reduction in expense processing costs."- said N.D. Reddy, founder and CEO of SutiSoft, Inc.
Los Altos, CA (PRWEB) July 31, 2012
New Features Include
Receipt Capturing Enhancements (OCR)
Images containing multiple receipts can be uploaded to SutiExpense. The solution will review the image, read information from each receipt and add the items as individual lines on the expense report.
Trip Date
Employees can now select a date for their trip while creating an expense report in place of using the default current date.
Tax Amount Recapture
Recapture amounts for expenses in Canadian provinces are captured and displayed in various screens/reports.
Time & Expense
Employees can submit the number of hours they spent during a week for a specific client or project. These hours can link to hourly rates and cost reports can be run by employee or specific periods.
SutiExpense is available in multiple versions: Small Business and Medium/Large Business. Visit http://www.sutiexpense.com for more info. Pricing starts at $5.95 per month per user.
About SutiSoft Inc
SutiSoft Inc. is a privately held company founded by N.D. Reddy, a successful Entrepreneur with over 30 years of experience in both the Hardware and Software industry as a Founder, and CEO. The Company's leading edge enterprise/SaaS application software products range from business productivity solutions such as Electronic Signature, Expense Management, Document Control Systems, Governance, Risk and Compliance, Security Solutions and others. The company's products are developed using Java, Flex, AJAX, HTML5 and other cutting-edge technologies which allow SutiSoft to retain its core values which are Simple, Scalable, Secured, and Seamless. Headquartered in Los Altos, California USA, SutiSoft has offices in Northern California, India, Germany and Japan. Additional information is available at http://www.sutisoft.com.