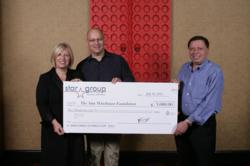 New York, NY (PRWEB) July 31, 2012
Star Group Refining, the premier dental and jewelry refiner in the United States and across Europe, recently donated $5,000 to the Amy Winehouse Foundation. This growing organization was set up last year to support charitable activities that provide help and support for young people who are suffering from addiction, ill health and disability.
Accepting the check on behalf of the Amy Winehouse Foundation was Paul Sassienie – a successful British comedy writer and ghostwriter of the recently released best-selling book, "Amy, My Daughter" (by Mitch Winehouse). Mr. Sassienie was recently a keynote speaker at the Star Group Refining Annual Conference in Las Vegas.
In response to accepting Star's $5,000 check, Mr. Sassienie stated, "On behalf of the AWF, thank you so much for your generous donation. The charity has plans to help underprivileged children in New Orleans because Amy was so upset by the devastating hurricane that hit the U.S. state in 2005. Working in conjunction with the New Orleans Jazz Orchestra, the foundation is raising money to create an after-school music workshop."
Star Group Refining is proud to be associated with the Amy Winehouse Foundation, and will continue supporting this charitable organization.
About Star Group Refining
Star Group Refining was founded on a simple idea: make it easy to convert precious metal scrap bearing gold, platinum, palladium and silver into cash. Star did this by becoming the actual refiner of the precious metals, eliminating the middleman, and helping all of its clients make more money. Star has since expanded this core principle to now include tens of thousands of happy clients around the world in dental offices, dental labs, commercial jewelers and the public who sell their precious metals to the company. In addition to consistently offering the best prices for scrap, Star Group Refining's success is founded on transparency, honesty, reliability and innovation.
Truly unique among precious metal refiners, Star Group Refining has developed a proprietary and customized valuation system using the iPhone® and volume contracts with major international express delivery services. These significant advances allow the company to provide: efficient client service; rapid, accurate and transparent on-site metal evaluations; seamless and simple customer transactions; and superior pricing.
More information about Star Group Refining can be found on its website, http://www.stargrouprefining.com.
© Star Group Refining. All Rights Reserved.
About Amy Winehouse Foundation
The Amy Winehouse Foundation has been set up in Amy's memory to support charitable activities in both the UK and abroad that provide help, support or care for young people, especially those who are in need by reason of ill health, disability, financial disadvantage or addiction.
It is the mission of the Foundation to assist as many of those affected as possible by supporting and funding identified and reputable charitable organisations that tirelessly carry out remarkable and professional work in these areas. This work will not only make a significant and positive difference for those it supports, but will also pay tribute to Amy's remarkable life, talent and beautiful spirit.
© 2011 Amy Winehouse Foundation | Amy Winehouse Foundation, registered charity 1143740 (England & Wales)