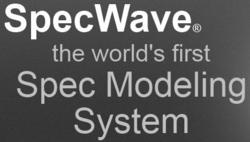 SpecText users will have access to more tools to make their specification work even more efficient and accurate.
Philadelphia, PA (PRWEB) July 31, 2012
Two key players in the specification software arena are teaming to offer their products in a way that will significantly expand the reach of specification modeling technology. TEEC - The Engineering Essentials Company, LLC, Philadelphia-based developer of the SpecWave® specification modeling system, and Salt Lake City-based ARCOM, publisher of the SpecText® master guide specification system, have agreed to offer a version of SpecWave bundled with SpecText.
Under the agreement reached by the two companies, ARCOM will exclusively market a version of TEEC's SpecWave software tailored for the construction industry branded as "SpecWave AEC". With the bundled package, users can create rich, multi-purpose in-house office masters based on ARCOM's SpecText.
TEEC's SpecWave software introduces the concepts of spec modeling and spec driven process, through which engineering specifications become more rigorous and better connected to the total asset lifecycle, helping increase reliability and reduce the total cost of ownership.
SpecWave provides optimized editing for specification writers, advanced attributes and tagging of content, and spec driven process support for submittals, quality assurance, and other business workflows.
TEEC CEO Leon Gorbaty said: "We look forward to ARCOM's leadership in this venture. ARCOM brings years of experience and the industry's most comprehensive set of master guide specifications. By working together, TEEC and ARCOM can offer customers the best content bundled with TEEC's state of the art SpecWave tools."
ARCOM CEO Christopher Bushnell said: "Bringing the SpecWave AEC software to SpecText users is another example of ARCOM's commitment to providing the most advanced productivity tools for specifiers, and it will be a welcome addition to ARCOM's SpecWare suite of specification software. SpecText users will have access to more tools to make their specification work even more efficient and accurate."
About SpecWave
SpecWave is the world's first specification modeling and specification-driven process system. SpecWave transforms codes, standards, and engineering specifications into structured "models" that improve maintenance, approval cycles, publishing, and connecting these all-important documents to other systems and workflows such as CAD, BIM, procurement, and quality assurance.
SpecWave is both a powerful and a general spec modeling system – it is not specific to any particular market or industry. SpecWave has been shown to be applicable for architecture and construction, oil and gas, power, chemical, water/wastewater, and various other engineering disciplines.
To learn more about SpecWave please register for a SpecWave Discovery Session.
About The Engineering Essentials Company, LLC
The Engineering Essentials Company, LLC (TEEC) supplies commercial software and customized solutions for clients to help manage codes, standards, and engineering specifications. Clients can develop, edit, and maintain documents while enforcing corporate styles and formats. Additional information about TEEC is available at http://www.teecspecs.com.
About SpecText
SpecText is a master guide specification system of pre-written, full-length, short-form, and outline streamlined engineering specification sections designed for preparing project specifications and creating office masters. SpecText can be used for a wide range of projects, and covers multiple disciplines such as environmental, civil, structural, mechanical, and electrical engineering. Additional information about SpecText is available at http://www.spectext.com or call 877-773-2898 to speak with a product consultant.
About ARCOM
ARCOM is the leader in specifications and the publisher of SpecText®, MasterSpec®, SpecWare®, and SpecAgent®. SpecText and MasterSpec are master guide specification writing systems designed to provide a method of preparing accurate construction specifications for projects. SpecWare is a suite of specification productivity software tools that dramatically simplifies specification creation and use. SpecAgent is a web-based resource designed to work with SpecText and MasterSpec that streamlines the process of product research and comparison and manufacturer selection. Additional information about ARCOM is available at http://www.arcomnet.com.
CONTACT:
Sharon Epple
Manager, SpecText Support Center
877-773-2898