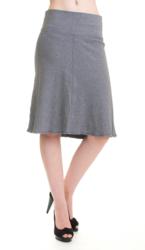 (PRWEB) July 30, 2012
Lalunacouture.com has launched a new student discount program on Hard Tail skirts. To qualify for the program, schools must be registered into the program by a school official. The registered schools will then be given a coupon code that can be used by their students for 20% off of 5 or more Hard Tail skirts.
Due to the recent changes in school uniform policies, Lalunacouture.com is now offering an even larger variety of Hard Tail skirts. "We have been contacted more and more lately by students asking for certain colors and styles to go with their uniform policies," explained Theresa Marrocco, founder of Laluna Couture.
While Laluna Couture offers a wide range of clothing, they are best known for their line of Hard Tail clothing, particularly Hard Tail skirts. Hard Tail skirts have become a huge hit with families whose children attend schools that require uniforms. Hard Tail's A-line skirts and supplex skirts always fit within modest dress codes, making them an especially popular choice with students attending Jewish schools. These a-line skirts are now being offered in navy and beige.
Laluna Couture began as a brick and mortal retail boutique called The Ruby Closet. Because the store offered so many styles and colors of the Hard Tail skirts, they quickly became popular with customers who wanted attractive school uniform skirts. Those customers referred friends from all over the country to The Ruby Closet. These referrals inspired Marrocco to create her online boutique, http://www.LalunaCouture.com. Marrocco now offers the widest variety of Hard Tail skirts on the web.
For further information or to register for the Laluna Couture student discount program, visit Lalunacouture.com or call 1-877-268-9070