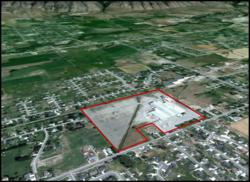 We are presenting buyers with an opportunity to purchase quality industrial property at an auction price
Newport Beach, CA (PRWEB) July 31, 2012
Companies with industrial real estate are constantly looking for the best and most effective way to sell, and it's even more important when they have over 800,000 square feet of industrial facilities. As a leading manufacturer of windows and doors, the Wisconsin-based company marketed two surplus properties for over a year: one in Utah, the other in Wisconsin. After a long period of time with very little interest, it became apparent that a broader, more aggressive approach was necessary in order to sell the properties. The company employed the auction marketing services of LFC Group of Companies and their leading online real estate auction website FRE.com.
"We are presenting buyers with an opportunity to purchase quality industrial property at an auction price," states Ryan Devin, director of Auction Operations. "The advantage of the auction to the seller is a quick sale without chasing the market down like in a traditional sale; and to the buyer it is determining their price in a hassle-free, transparent sale process."
The two manufacturing/distribution facilities available in the auction are:

800 South View Drive, Mosinee, Wisconsin– Approx. 678,000 square foot building on 43+ acres located less than ½ mile from Central Wisconsin Airport. The property, built in 1990, has +33,931 SF office space, 6 drive-in doors, 62 truck docks (all with levelers), cold storage areas and high-efficiency lighting.
2990 South 800 West, Nibley, Utah – Located less than 5 miles from Logan, Utah, and 20 miles from the Idaho border, the property has two separate buildings totaling over 160,000 square feet. There are 22 loading docks and 15 loading doors and the two buildings sit on more than 31 acres.
The minimum bids on each property start under $9.00 per square foot, well below market value for properties of this stature and condition.
"Believing that the buyer for these properties is definitely out there, it was important for us to firmly and clearly demonstrate our intention to sell by setting the minimum bids at a point where they will attract and motivate buyers to take action," states a spokesperson for the property owner. "And by the response we've seen to date, it is working. The property web page has received nearly 1,300 hits and 18 registered prospects."
All bidding is conducted 100% online, allowing buyers from anywhere, at any time to participate without the hassle or pressure of being on site to place their bids. Also, due diligence materials are available for download on FRE.com.
Interested buyers can access specific property documents, additional photos and auction details by visiting FRE.com/133R2. Bids must be submitted by September 13th.
The Freedom Realty Exchange®
The Freedom Realty Exchange is owned and managed by LFC Internet Marketing, Inc., a member of the LFC Group of Companies. For more than 30 years, the LFC Group of Companies has successfully auction marketed thousands of commercial, industrial, land and residential properties, with sales in excess of $5 billion; and for the last seven years, we have conducted real estate auctions exclusively online. We have successfully served numerous Fortune 500 companies, real estate developers, investors, financial institutions, government agencies and real estate brokerages, providing a complete suite of real estate disposition strategies and auction marketing programs for commercial and residential property and mortgage notes.